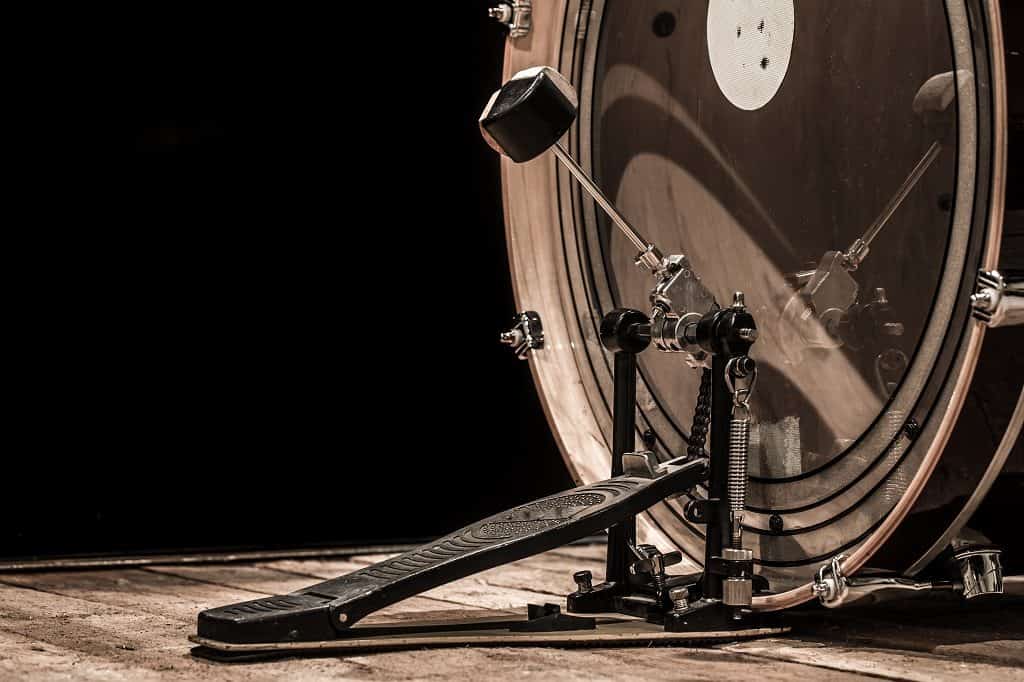 We all know that drum pedals take a severe beating. When buying one, it's important that you look for the one you can count on regardless of how hard you play. All of the other musicians you'll be playing with are going to be relying on the steady beat of your pedal to nail down the beat perfectly, so making the right choice for your equipment will either make or break a session.
The first bass drum pedal was developed in the late 1890s and enabled a single drummer to play two drums at once. in 1909, William F. Ludwig and his brother Theobald made drum history by inventing the first spring-driven bass drum pedal. The invention was a revolution, and it enabled drummers to play faster and for longer periods of time.
Over the next few years, Ludwigs pedal designs grew to include mechanisms that let drummers switch the cymbal striker on or off with their foot. This allowed them to play many different drums, cymbals, and add additional sound effects to their expanding repertoire.
In this article, we'll take a look at some of the best drum pedals available in 2023. Whether you're a beginner drummer or a seasoned professional, we'll show you some of the best drum pedals you can find on the market today to help you find the right one to serve you best.
Our Editor's Choice - Best Overall Single Drum Pedal
DW DWCP5000AD4 Accelerator Single Bass Pedal
Our choice for the Best Overall Single Drum Pedal goes to the legendary and newly-improved DW Accelerator 5000. This pedal has always been engineered for intense performance by professional drummers and it's a wonderful upgrade for any drummer looking for a reliable bass drum pedal that will last for many years of playing.
From a redesigned toe clamp that provides more gripping strength and a stronger connection; a new textured rubber base plate grip pad; a new Dual Bearing Spring Rocker; and a bottom plate grip that keeps the pedal from slipping, the DW Accelerator is our number one choice for the best overall single drum pedal you can buy in 2023.
Our Editors Choice - Best Overall Double Drum Pedal
Pearl P932 Demonator Right Footed Single Chain with Interchangeable Cam Powershifter
Our choice for the best overall double drum pedal in 2023 is the Pearl P932 Demonator. Not only is this a great-looking set but it's also versatile and a joy to play.
The Pearl Demonator has a power shifter long food board that works perfectly as a playing surface for fast double-bass patterns, or when you use the heel and toe technique for rocking motions. The pedals are responsive in spite of a single chain and don't demand much force.
Great design includes advanced configuration features like a click-lock at the bottom of the spring to adjust tension, and you can choose between offset and liner cam to change the speed at the end of your stroke to give a more pronounced kick sound. The amazingly versatile Pearl P932 Demonator is hands-down our number one top-place winner for the Best Overall Double Drum Pedal in 2023.
Quick Comparison Table: The Top 10 Best Bass Drum Pedals
#
Image
Details & Features
#1

★ BEST OVERALL SINGLE DRUM PEDAL! ★

DW Accelerator Single Bass Pedal Model DWCP5000AD4

This industry-standard single drum pedal from DW has been newly re-engineered with several major improvements. The toe clamp now has more gripping strength while three rotating rubber pads provide zero slippage to the bass drum counter hoop.

A new textured rubber grip pad attaches the base plate stronger; a dual bearing spring rocker provides quicker response, and a new accelerator drive system increases pedal velocity to make the 5000 better than it's ever been before.

#2

★ BEST OVERALL DOUBLE DRUM PEDAL! ★

Pearl P932 Demonator

Pearl's P932 Demonator Single Chain Bass Drum Pedal is an amazingly versatile single-chain bass drum drive pedal equipped with Pearl's Demon Style Power shifter long footboard.

An interchangeable cam along with an infinitely adjustable beater angle allows you to customize the pedal to whatever your preferred feel and power requirements. The Pearl Click-Lock spring tension keepers and Control Core Beater add a finishing touch to this great Editor's Choice winning double drum pedal.

#3

DW 9000 Double Bass Drum Pedal

Drummers will enjoy an unequaled combination of feel, speed, and power with this exceptional pedal from DW. A floating rotor and adjustable cam gives drummers the flexibility and versatility needed to easily take their footwork to the next level.

A patented tri-pivot toe clamp system and non-slip rubber base plate connect you and your kick drum closer than ever before. Touring pros the world over choose the DW 9000 pedal for endless drumming possibilities.

#4

Tama Speed Cobra Dual Kick Pedal HP910LWN

This newly revamped dual kick pedal from Tama offers fast and smooth double-kick performance and exceptional stability. The mechanism returns the footboard fast and smoothly to its original position, and the base plate has been designed wider and is absolutely rock solid.

A robust hinge guard block ensures you'll get through even the toughest gigs in one piece. The result is a smooth, precise kick pedal that's highly recommended by many drummers.

#5

Tama HP200P Iron Cobra 200 Single Pedal

Tama's Iron Cobra 200 is designed just like their Cobra 900 for performance at a great low price. Using Spring Tight pedal spring adjustment, you'll discover an incredibly smooth and fast response while the footboard returns fast to its original position.

The pedal features Tama's single-chain Power Glide Cam for increased power and speed, and the beater angle is adjustable to give you an optimal kick every time.

#6

Pearl P930 Demonator Drive Pedal

The Pearl P930 is a single-chain bass drum drive pedal with many award-winning features. These include single-drive Pearl Demon Drive pedals; Perfect Circle Cam w/ Removable Eliminator-style cam; Demon Style PowerShifter Function Longboard; Dual Surface Beater w/ Control Core; Infinitely Adjustable Beater Angle; and Pearl's exclusive FrictionLess Roller.

The company changed the game in 2009 with this amazingly versatile pedal and has only improved on it even more with this latest customizable version.

#7

Drum Workshop Bass Drum Pedal Model DWCP2000

DW's entry-level drum pedal is designed for students, weekend warriors, and working drummers. The 2-way reversible beater is made from high-impact plastic with felt surfaces to cover a wide range of musical applications.

The single-chain cam is a chain-and-sprocket design with an offset cam to give you fast and quick response. A steel base plate provides a sturdy foundation to ensure non-skid play on carpet or other floor surfaces using Velcro and adjustable spikes.

#8

Drum Workshop Bass Drum Pedal Model DWCP3000

The DW 3000 Series Bass Drum Pedal offers drummers a host of features, road-worthy reliability, and an unmistakable feel. The pedal features durable all-metal construction with a sturdy steel base plate that will stand the test of time.

The 3000 Series dual-chain drive Accelerator sprocket and industry-standard two-way beater is guaranteed to be a smart and versatile choice for drummers of all skill levels and playing styles.

#9

Mapex P500TW 500 Series Double Bass Drum Pedal

The Mapex 500 is a great affordable drum pedal option to begin enjoying double bass techniques. Solid steel components ensure it to be reliable, durable, and quite playable.

Features include single-chain drives and fully adjustable spring tensions; duo-tone felt/ABS plastic beaters; compact footboards with stabilizing radius rods; a universal linkage adjustment; and retractable floor spikes.

Adjustments can be made quickly and easily to keep you going during every gig.

#10

Tama Iron Cobra Dual Kick Drum Pedal

Tama's ultimate dual pedal drum pedal has been widened to eliminate side-to-side movement and comes with a new beater to deliver a strong and punchier response.

The clamp pivots more freely; the cam mechanism is smoother, and an innovative swivel spring has improved the stroke. The Iron Cobra remains smooth and agile with plenty of weight and punch for a tremendously satisfying feel when playing the bass drum.
10 Best Bass Drum Pedals Detail Reviews
1. DW Accelerator Single Bass Pedal Model DWCP5000AD4 (Our Editor's Choice for the Best Overall Single Drum Pedal)
Exclusive DW 5000 features:

New Tri-Pivot Toe Clamp ((incl. clip with footboard-mounted Drum Key)
Delta Ball-Bearing Hinge
Bearing Spring Rocker Assembly
Dual Adjustable Toe Clamp Universal Assembly (with memory lock)
Single Post Casting
Drum Workshop's legendary DW Accelerator single bass pedal Model 5000 has all the features any drummer could possibly need. It is considered one of the best designed and most well-built drum pedals on the market and has always been engineered for intense performance by professional drummers all over the world. The many innovative features make it a wonderful upgrade for any drummer who is looking for a reliable bass drum pedal that will last for years and years of playing.
In this latest version, DW has re-engineered the pedal with several major improvements. The toe clamp has been redesigned to provide more gripping strength and a stronger connection between the drummer and kick drum. The clamp now features three independent, 360 degree rotating rubber pads that firmly pinch almost any diameter or thickness of the bass drum counter hoop from the top and bottom providing zero slippage. The clamp's sturdy hinge and spring rocker has two bearings to give it the stability you need for a durable and high-quality performance.
A new textured rubber grip pad on the base plate has been added to provide the best possible system for attaching the pedal to the bass drum. In order to improve on the smoothness and feel of the model 5000, a Dual Bearing Spring Rocker has been added to make the pedal quicker and more responsive.
This legendary 5000 bass drum pedal continues to feature a choice of drive systems; aluminum hex shafts, pedal plates and linkages; 101 two-way beater; and built-in spurs to make sure it is customized to fit the needs of every drummer.
A grip is located on the bottom of the pedal to keep the pedal from slipping even during the most explosive performances. With each stroke shortened, you are assured that your beats can have faster velocity and power.
Pros
Smooth and responsive feel
Easily adjusted
Sturdy design
2. Pearl P932 Demonator (Our Editor's Choice for the Best Overall Double Drum Pedal)
Pearl's P932 Demonator is not only visually appealing but a very responsive and versatile bass drum pedal. It features Pearl's Demon Style Power shifter long food board that acts as a playing surface and works great for really fast double bass patterns or when you're using the heel and toe technique for rocking motions.
The pedal feels really responsive when you play, in spite of the single chain. But having a single chain doesn't affect the pedal's highly impressive and responsive performance. You will never need to worry about any lag when you're playing this drum pedal.
In addition to the pedal's smooth action, the pedal also doesn't demand too much force from you when playing. It is a convenient piece of art that most drumming professionals will consider a worthwhile investment. And with a single chain, the pedal has the added advantage of giving you a fairly large amount of control.
In addition to an adjustable felt and plastic beater and adjustable beater height, the Pearl Demonator has a couple of advanced configuration features. There's a click-lock at the bottom of the spring so you can adjust its tension. Just switch the lock open, turn the dial to where you want it, and close the lock back down. It's a great design with no screws anywhere to need turning.
Another great feature of the pedal is that you can choose between offset and liner cam. It's not evenly shaped and therefore the beater won't be accelerated evenly but gains speed toward the end of the stroke. This allows you to enjoy having a more pronounced kick sound. You can either leave the offset cam in place or take it off entirely to have an evenly shaped liner cam.
Pros
Longboard for heal and toe players
Click lock for frustration-free tension setting
Choose between offset and linear cam
Cons
Single chain is not the best for fast players
3. DW 9000 Double Bass Drum Pedal
This is Drum Workshop's flagship model of their top-line drum pedals so it's to be expected that the item stands out as an exceptional piece of engineering. Drum Workshop also made sure that the price is comparable, making the pedal an ideal choice for even the most discerning drummers.
The overall construction is superb and should easily withstand the test of time while playing your set over the years. It is a well-constructed high-end product that should not deteriorate even with extreme use.
The DW 9000 uses an innovative free-floating rotor-drive system that allows it to work smoothly and noiselessly while the rotor spins instead of staying in a fixed position. The cams are infinitely adjustable, so whether you need the pedal to be in turbo or accelerator mode, you can make the necessary adjustments easily and almost without any effort at all. Another feature is the dual-adjustable toe clamp that ensures the connection between the pedal and the drum and drum hoop are stable and won't become disconnected.
The pedals work much more smoothly than most cheaper alternatives that take a lot of effort to push before the sound kicks in. Sticking is also not a problem as the DW line of pedals has a well-earned reputation for smooth pedaling action.
There are some flaws however that should be considered. First is the price. Especially for novice drummers, the cost of the DW 9000 is quite high. Even with all of its features and outstanding performance, many drummers will not want to invest quite as much into their bass pedal. Thankfully, cheaper alternatives are available in other models that we've listed in this article.
Some reviewers have reported that the pedal can become disconnected from the drum hoop. This would be extremely frustrating if you're in the middle of playing a set. If this is a problem, The solution is to use duct tape when necessary to keep the angle of the pedal in the proper alignment.
The DW 9000 Double Bass Drum Pedal is expensive, but can definitely be worth the price for experienced drummers if not for novices. It's a great choice for drummers looking for plenty of customization options and delivers excellent value for the price.
Pros
Exceptional build quality
Smooth, noiseless operation
Includes nylon reinforced bag
Cons
Expensive, especially for newbies
Pedal may become disconnected
4. Tama Speed Cobra Dual Kick Pedal HP910LWN
This Tama dual kick drum pedal became instantly popular when it first came out because of its speed, power, and superior design. The mechanism is designed for the serious drum player with extra-long and smooth surface footboards to provide additional leverage and minimize player effort.
You can use a wide variety of foot-sliding techniques because of the pedal's solid foundation based on Tama's Super Stabilizer design that has a wider than normal base plate and frame to assure great stability.
The specially designed three-piece Hinge Guard Block located at each pedal's heel gives you a more durable hinge point. It just slightly lengthens the footboards so that you have enhanced speed and control while you're playing.
A recessed setting feature is at the heart of the Speed Cobra HP910LWN. It positions the top of each footboard behind and away from the cams. This results in a more natural and easy motion than most conventional designs.
Tama's unique LiteSprocket Rolling Glide cam is symmetrical and along with a longer footboard, it's double-chain mechanism provides maximum speed and power throughout your entire pedal stroke cycle.
The new Speedo-Ring rocker cam is another example of the way Tama has streamlined the pedals to eliminate spring friction using a high-quality, built-in ball-bearing rocker. There's also a Quick-Hook spring attachment to eliminate wobbling and provide maximum power transmission to the Speedo-Ring to help you facilitate quicker setup.
The company also improves the speed and beater stroke action with an adjustable Cobra Coil spring-return. It constantly works to push the footboard so that it goes back to its original position. This eliminates distractions by always keeping your foot and pedal at the same exact distance.
Tama also designed an ingenious Swivel Spring Tight tension-locking mechanism that rocks and swivels to give you freer spring movement and a smoother overall feel. The Accu-Strike Cobra Beater helps provide a powerful and precise strike, producing a sharper, more explosive sound when it makes contact. And, Tama's Speed Cobra Para-C clamp keeps the pedal securely positioned next to the bass drum hoop to prevent slipping and scratching with an enlarged rubber padded clamp.
The Tama Speed Cobra HP910LWN is an exceptionally smooth and precise kick pedal that has been highly recommended by many drummers. The unit also includes a custom hardshell carrying case to keep it from being damaged while the pedals are being transported.
Pros
Good build quality and materials
Smooth and precise action
Carry case included
Cons
Possible long-term durability issues
5. Tama HP200P Iron Cobra 200 Single Pedal
The Tama HP200P has become the go-to favorite drum pedal for hard-playing drummers. It's built to last and functions quite well for a surprisingly low price.
The pedal is capable of seamlessly translating the motions of your foot directly to the kick of the mallet over and over again. It's quite responsive and reliable with durable single chain construction that is super-responsive to the ever-changing pressures of your foot.
Tama's Power Glide Cam technology translates your foot's motion into a mallet-strike that you can control with surgical precision. You will feel a fluid translation of your foot's motion immediately into the movement of the beater. The system gives you a maximum amount of control over every kick.
The power and rebound of the HP200P along with its updated footboard design keeps the pedal glued directly to your foot and makes it feel like an extension of your entire leg. The new design also adds additional grip, which translates into more fluid contact.
A Para-Clamp mounting connector offers you an easy hoop connection so your set up and break becomes a breeze. Meanwhile, the pedal will stay in position exactly where you want it. This solid anchoring also helps to improve the responsiveness and rebound of the beater, to keep your sound tight and right on time.
Dual-sided beater technology rotates the beater 180 degrees to deliver a softer sound from your kick drum. You can easily raise the sound and produce a softer, alternate tone at exactly the right time. Combining this with the hyper-responsive touch of the pedal, you'll have an entire palette of tones available at your feet so you can lay down the right sounds at the right time.
Tama uses high-quality hardware to build the HP200P. From the wood, rubber and felt of the beaters to the steel and aluminum of the pedal, the pedal is built to last without suffering a decrease in performance.
Pros
Powerful and durable
Extremely responsive
Low price
Cons
Somewhat lighter in weight than more expensive pedals
Simple and not flashy construction
6. Pearl P930 Demonator Drive Pedal
The Pearl P930 is perfect for beginner drummers who are just starting out to play the drums and need a pedal that's good but won't break the bank. This pedal is also a nice upgrade to a beginner's drum kit and should last for years of playing pleasure.
The pedal is an extremely well built chain-drive pedal. It plays super smooth and is extremely versatile. Pearl has included some excellent features that are usually found only on more expensive pedals and a few unique features that you won't find anywhere else.
The Pearl P930 features a fully adjustable beater angle that's independent of the footboard to allows you to position the beater at any angle. Changing the beater angle doesn't affect the footboard height which can happen with many of the cheaper bass drum pedals.
Pearl has designed this pedal with unique interchangeable cams. You can use either a round cam to give you a consistent feel across the entire pedal movement, or an eccentric cam to increase the beater's speed when it gets closer to the drumhead. This ability is rarely seen in a drum pedal, especially in one that costs under $100.
There is also Pearl's Powershifter footboard that can be pushed forward or backward, depending on the placement that works best for you. Pearl's locking mechanism has a spring tension adjustment to make it quick and easy to lift, adjust, and snap the footboard back into place.
An add-on kit is available to turn the single pedal into a double bass drum system. Another option is that you can buy a double pedal model right from the start for an additional cost (Model P932). The double pedal version works smoothly and solidly and includes the same features as the single pedal unit.
The Pearl P930 isn't a toy that you'll quickly outgrow. More advanced drummers who are looking for a great spare bass drum pedal might also consider it the perfect choice.
Pearl has done a great job with exceptional build quality and many stand-out features that make the P930 an excellent drum pedal for the price.
Pros
Takes more effort than some other pedals
Inexpensive and built well
Smoother and faster than most stock pedals
Cons
Not very responsive with a lifter/riser
Not ideal for the fastest footwork
7. Drum Workshop Bass Drum Pedal Model DWCP2000
Drum Workshop's entry-level 2000 Series pedal is designed with all-metal construction for students, weekend warriors, and working drummers alike. It plays well and is the perfect choice for bargain-savvy drummers who are looking for the features of a tried and true USA-engineered pedal.
The pedal features an industry-standard DW reversible beater with high-impact plastic and felt surfaces to cover a range of musical applications. The chain-and-sprocket design uses a single chain with an offset cam to give you quick response in any playing situation. A steel base plate provides a sturdy foundation for the pedal.
When playing on carpet or any other flooring surface, built-in adjustable spikes, and Velcro straps are supplied to always ensure you of non-skid play no matter what the surface happens to be. There's even a notch where the beater goes to keep it from moving left to right while you're playing. A tension adjustment allows you to change the tension in small increments so it fits your playing style.
The pedal offers solid responsive and is strong enough to use for the average player. It's a great value for the money. The sturdy base plate and clamp should last for years under most normal playing conditions.
Drum Workshop guarantees the DW 2000 to be free of material and workmanship defects for a period of six (6) years from the original purchase date.
The DW 2000 Series Single Bass Drum Pedal offers drummers of all ages great speed, control, and a very nice overall feel. It's perfectly balanced and operates fast and smoothly like Drum Workshop's more expensive models. This is a nicely weighted pedal that doesn't compromise on quality or features at a budget price point. All in all, a very nice pedal for the price.
Pros
Functional
Good Quality
Easy To Use
Cons
No instructions for setup included
Somewhat difficult to set spring tension
8. Drum Workshop Bass Drum Pedal Model DWCP3000
Features include:

Dual-chain Turbo drive
Bearing spring rocker assembly
101 2-way beater
Heavy-duty all-metal construction
Drum key
Pro Coverage
Manufacturer's 6-year warranty
The DW 3000 Series is standard medium-weight step up from the DW 2000 single bass drum pedal. It's designed for every drummer and big on features like dual-chain Turbo drive; bearing rocker assembly; 101 2-way beater; heavy-duty all-metal construction; and many more features.
The pedal is guaranteed to be a smart and extremely versatile choice for all drummers, whether they are beginners or highly-skilled with many different playing styles. In addition, the DW 3000 has a great low price that's in reach for most drummers.
The 101 2-way beater is an industry-standard reversible beater with high-impact plastic and felt surfaces that allow drummers to cover a wide range of musical applications. The DW Dual-chain turbo cam has a chain-and-sprocket design and an offset cam for fast, quick response.
The steel base plate on the pedal provides a sturdy foundation and insures non-skid play on most surfaces including carpet and other flooring surfaces using adjustable spikes and Velcro fastener cables.
The Single Post Casting design on DW's double pedals provides ease of movement between the pedal and hi-hat. It also allows the pedals to be played independently or simultaneously.
The dual adjustable DW toe clamp ensures that the pedal and drum stay connected properly. A convenient clip with drum key also included.
Pros
Easy To Use
Functional
Good construction
Cons
Some parts may be considered poor quality
bottom for anti-vibration and to keep the instrument stable.
The DW 3000 is designed to do the job. It's a versatile pedal with all the adjustments you'll need to play your best ever. The pedal is well priced and performs perfectly for every type of gig. The base is very stable and solid, staying exactly where you put it. The bearing action is super smooth, and the dual mallet is great for whatever you need. Many drummers consider this pedal the best of the different DW versions considering price and quality.
9. Mapex P500TW 500 Series Double Bass Drum Pedal
Main pedal features:

Solid steel components
Single-chain drives
Fully adjustable spring tensions
Duo-tone felt/ABS plastic beaters
Footboards with compact stabilizing radius rods
Independent universal linkage adjustment
Retractable floor spikes
The Mapex P500TW double bass pedal is a great affordable drum pedal option that will ease you comfortably into double bass techniques. It features duo-tone felt/ABS beaters, single-chain drives, fully adjustable spring tension, compact stabilizer radius rods, an independent universal linkage adjustment, and retractable floor spikes.
This kick drum pedal is made of solid steel components and was engineered to be reliable, durable, and, most importantly, playable. Adjustments are made quickly and easily, keeping you going during gigs night after night.
Mapex is a manufacturer known for their quality craftsmanship and durable materials, so this double bass drum pedal is a product that should last for years. Reviewers are very happy with the quality/price ratio on this double bass pedal, but there have been some complaints about drive chains breaking over time.
The manufacturer's warranty is one year on the finish and hoops, 2 years on hardware, and a lifetime warranty on shells.
The MAPEX P500TW is quite lightweight, weighing only about 3 pounds. It measures 20 x 10 x 10 inches and a carrying case is not included.
Considering the low price, this is an outstanding kick pedal that can benefit drummers of nearly all levels. It seems reliable and study, and can withstand daily use. There are also some customization options. All in all, drummers will get very smooth movement with no problems with the sound quality.
Many who have purchased this product say that the double pedal is a bargain. For the price, it performs nearly as well as many higher-end products. Although they seem to agree on the build quality, professional players point out that this pedal is better for casual drumming.
Pros
Solid build, can withstand heavy use
Provides better sound than a circular beater
Smooth and responsive performance
Cons
Pedals are stiff and need some breaking in
Pedals may not align perfectly with the snare stand
No carry case
10. Tama HP900PWN Iron Cobra Power Glide – Dual Kick Drum Pedal
Tama's top-of-the-line Iron Cobra pedal has continued to evolve and be improved to meet and exceed the demands of the modern drummer. The newest version looks nearly the same as earlier versions, but there are a host of new features.
The base plate of the Iron Cobra has been widened by 12 mm, and the entire frame increased by 15 mm, to completely eliminate any chances of side-to-side movement. The beater faces now have a smaller diameter but are much deeper. In addition to the Power-Strike beater which uses a dense black foam, Tama says the effect is to deliver a punchier low to mid-frequency response from your bass drum.
The angle of the face of the Iron Cobra beaters is now completely adjustable to ensure a solidly square contact on the drumhead. The mechanism that attaches the pedal to the hoop for both pedals has been upgraded to add further support and stability.
Tama's 'Para Clamp II Pro' can pivot freely in position to make sure there's a good fit from almost any angle while using less pressure. It also now has a much thicker coating of rubber to reduce most marring.
The Iron Cobra Lite Sprocket that formerly was a Speed Cobra feature has been added to create 40 percent less mass than the previous cam mechanism so now the action feels smoother and lighter.
Perhaps the greatest improvement in the Iron Cobra is the innovative new swivel spring that lets the bottom of the spring move back and forth in a pendulum-type fashion while the cam moves at the top. This keeps the spring always completely in-line with itself and results in smoother pedal action and an improved stroke.
The Iron Cobra pedal is double-chained and comes with a custom hard plastic carry case. It's also available in a single pedal model.
Without any doubt, Tama's Iron Cobra is almost impossible to fault. The pedal feels smooth and agile but still provides the old familiar weight under your foot. The sound of the new beater is definitely worth checking out. The newest version of Tama's Iron Cobra has immense punch, especially considering the size, and is tremendously satisfying to play against the bass drum.
Pros
Very functional and easy to use
Great quality equipment
Improves sound
Cons
Somewhat pricey for the budget-minded
Things to Consider Before Buying a Bass Drum Pedal (Buying Guide)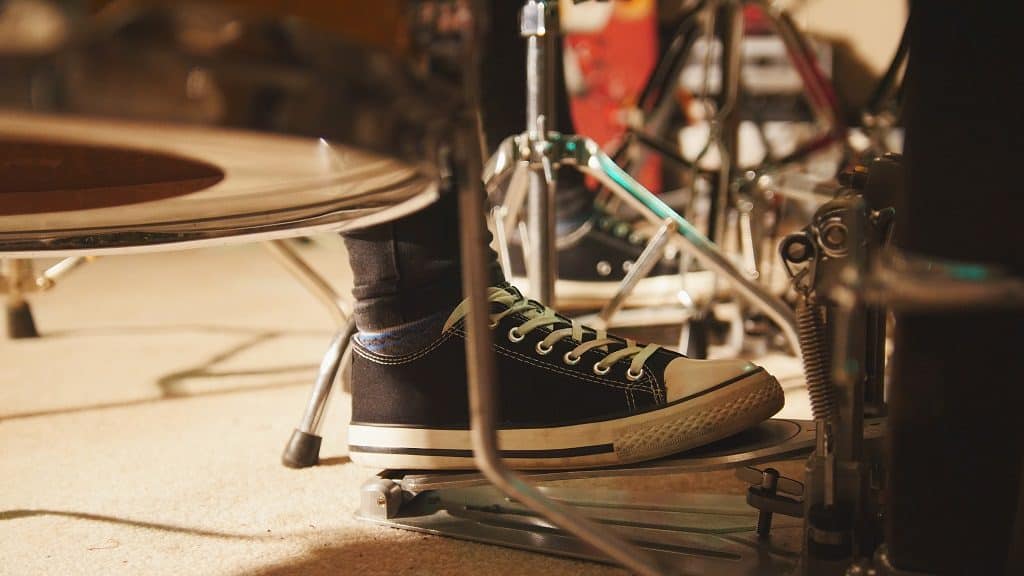 The bass drum pedal should be considered a critical part of your drummer's arsenal. Drum sticks are an extension of your hands and wrists, so a drum pedal is designed to provide a direct link between your foot and your kick drum.
It's easy to think that a bass drum pedal is nothing more than a simple combination of footboard and beater. That might have been true a century ago when the Ludwig brothers invented the first spring-driven pedal. However, in 2023, drum pedal construction has progressed and has been refined so impressively that today's pedals would hardly be recognized by the Ludwigs a hundred years ago.
There's also the obvious distinction between single and double pedal mechanisms with staggering amounts of variation. Chain or belt drive? Single or double chain? Direct-drive or longboards? Or, should you choose the standard split footboard? Hopefully, by the time you have finished reading this article, you will have the knowledge you need to find the right pedal for your exact drumming needs.
Pedal Drives
The drum pedal drive is the mechanism that connects the footboard to the beater and allows the pedal to function properly. There are three types: chain, belt, and direct drive.
Chain-drive pedals have been the most common type for many years. Within the type, there are single and double chain versions. Generally, a double chain is more durable under extreme use. But it can tend to wobble from side to side and make playing more tedious and less pleasurable.
Double-chain drives are usually more preferred than single-chain, but they also tend to be more expensive because of the complexity. However, single-chain drives can be quicker and more responsive when designed properly. Choosing which one is for you usually requires trying both out to see which feels more comfortable to you when you're playing.
Footboards
Drum footboards come in many different sizes and shapes, but the most important distinction is between the standard and longboard versions. Most pedals have a hinge that is located by the player's heel to provide a flat base at the end that isn't a part of the pedal's playing action.
In contrast, a longboard pedal lacks that hinge, so the entire length of the footboard will act like a complete playing surface. The longboard style has become especially popular with many drummers who use the heel & toe or rocking technique to facilitate rapid double-strokes. Longboard pedals can also give drummers increased comfort if they have larger shoe sizes.
Cams
The cam assembly attaches the drive to the beater and supplies the radius so that the drive pulls the beater back in response to the footboard. The two types of cam are linear and offset.  A linear cam keeps the same radius throughout the beater's travel. The beater's speed stays constant from the beginning to the end of each stroke. Direct-drive pedals and pedals that have round cams are examples of linear-drive pedals.
An offset cam will generally accelerate the beater when it gets closer to the head. Offset cams usually have a "nautilus" shape, with the radius increasing from the center. When the beater begins to rotate, the radius and leverage are greatest and the pedal will feel light. When the beater gets closer to the head, the radius and leverage will decrease and the feel becomes heavier.
Many drummers will often experience a "whip" action and a sudden burst of speed when they reach the end of the stroke. This is especially true with cams that have the greatest radius difference. Some pedals feature interchangeable cams to allow the drummer to choose between two linear and four offset cams so they can customize the pedals to their preference.
FAQs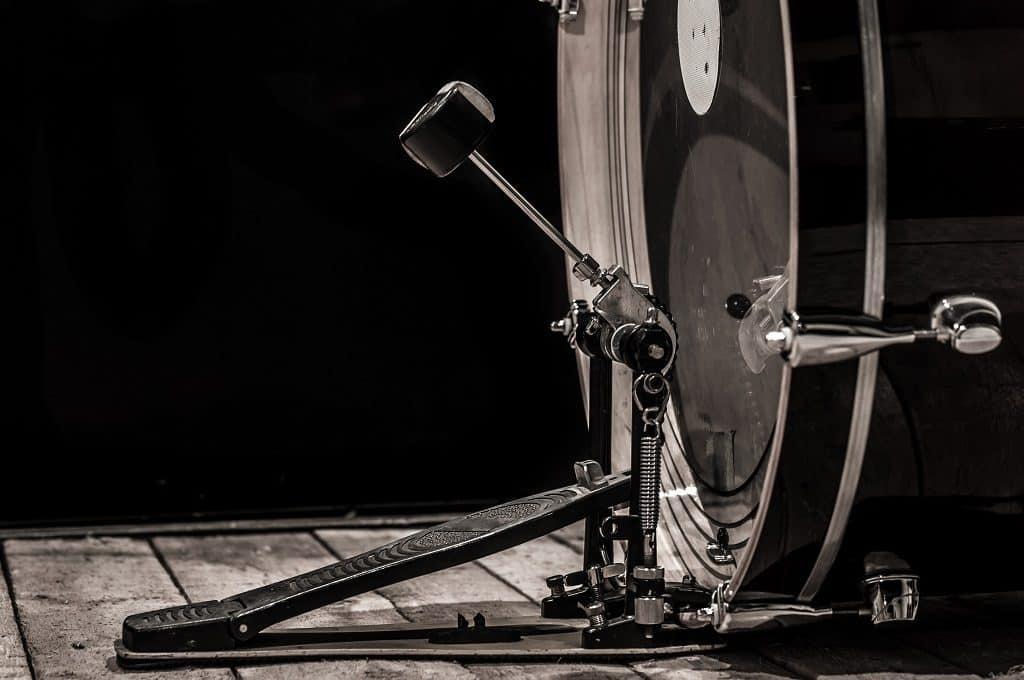 What's the fastest double bass pedal?
The Tama Speed Cobra Dual Kick Pedal is arguably the fastest double bass pedal in this review, although several of the more expensive DW and Pearl models may be faster for some players.
What's the difference between the DW 5000 and 9000?
The DW 9000 has a wider base and an optional strap that doesn't come with the DW 5000. Both pedals have many similar features but the DW 9000 has some additional adjustments and some parts are beefier. Whether this is a plus or minus will depend on the individual drummer.
What is The Best Type of Transmission?
For most beginners, a single or double chain drive is usually recommended, but if you like to hit hard, a double chain might be a better choice. Belt drives are best used by beginners while direct drive pedals are usually intended for more experienced drummers.
What Type of Pedal Should I Choose?
If you're just starting out as a beginner drummer, a felt bat is recommended. Wooden or plastic bats can offer more attack but will have a more defined sound. However, it will take practice and more training to become used to wooden or plastic.
What Adjustment Options Should I Look For?
If you've just started the battery, it's important to be able to adjust the spring tension. Most of today's pedals have this option. The type of cam you use won't matter when you're a beginner drummer. Later on, you may want to be able to make adjustments to the angle of the bat.
Conclusion
The bass drum pedal is an essential part of your drum kit. As every drummer continues to define his or her style of playing, their preferences as to their drum pedal will continue to develop. By having the best bass drum pedal possible, you can add that punchy and deep bass drum sound to every musical track you play.
We hope this guide has helped you out to learn everything you need to be able to choose the perfect pedal for your drumming needs. We wish you the best and encourage you to practice often so you can enjoy your musical talent playing the drums and enjoying your preference for the best bass drum pedal for your particular needs.
Thank you so much for taking the time to read this article, and we hope you have a great day!