Drumming Trigger is an electronic sensor that can be attached to a drum to enable it to control an electronic drum unit device. Triggers are majorly designed for acoustic drums. These drums, without the triggers, can create lots of different sounds, but they are limited by the type and the range of the equipment available.
What acoustic drum triggers do is they allow a drummer to play the acoustic drum and simultaneously trigger an additional electronic sound. Also, triggers provide you with clear sounds, and they are extremely useful to handle the high speed without lag. Triggers are not just for studio production, but they are also popular in live shows.
Installing them is also pretty convenient. You just have to mount them to your acoustic and plug the 1/4″ jack to the pre sampled module for the drum sound. That will further be connected to the mixer, and finally, you will be able to hear the clear audio on the speakers.
There is a major group in the music and audio industry, which says that using triggers is cheating as it involves artificial sound. This is just looking at it from a different perspective.
Choosing the best drum triggers and the best drum kit is no easy task, even for professional drummers. Which option would be the most useful for you? What factors to consider? Is there a single winner out there? This article will try to answer all your queries and ease out the process for selecting the best drum trigger or the best drum kit. I would suggest that you read this buying guide completely as there might be things in there that you might not be aware of.
Best Drum Triggers – Editor's Choice
The best drum machine ensures that you get an amazing output. If you are in a hurry and you do not want to go through the whole article, in this section, we have listed the top two drum triggers. Drum triggers work wonders, and we are here to help you buy the right one.
One of these products is budget-friendly, while the other one is full of features. You can check them out and buy the one that suits you best.
Best Budget Drum Triggers
Pintech Percussion RS-5 Acoustic Head Trigger
Out of the different types of drum triggers that are available in the market, the Pintech Percussion (Mod: RS-5) Acoustic Drum Trigger is one such product that will fit your budget, and it comes in our top-7. It is one of those products that have great features at a very affordable price. The product had excellent sensitivity and response, it gives an amazing result, and you can buy it if you are on a budget.
Best Feature-Rich Pick Option
Roland RT-30HR Dual Trigger for Hybrid Drumming
Just like the best drum rugs and mats ensure that your drum does not slip away, the drum triggers ensure that your drum playing level gets enhanced. The Roland (Model: RT-30HR) is packed with features! From a durable and fiberglass ABS body that is reinforced, advanced dual-trigger, TRS cable connection, to the mechanism that ensures secured mounting, side-mounted trigger output, and so much more. There is no end to this product, and it is a must-buy if you are not worried about your pocket, and you want to invest in a premium quality drum trigger.
If you are still not convinced, continue to read the article. We have listed our top-7 drum triggers as well. You can read the whole article before you jump onto conclusions.
A Quick Comparison Table – Best Drum Triggers
An In-depth Product Review: Top 7 Drum Triggers
Now that you now about drum triggers and the importance of their sound modules let us talk about the top-7 drum triggers that are available in today's market. These drum triggers work with snare drums, acoustic drums, etc. You can have a look at the features, pros, and cons of these products to make an informed decision. Let us discuss them in detail!
1.

Roland RT-30HR Dual Trigger for Hybrid Drumming
Key Features
TRS connection cable (included)
Advanced dual-trigger
Fiberglass ABS body, reinforced and durable
Secure mounting mechanism
Dual sensor system (center/rim)
Light fiberglass body
Side-mounted trigger output
Exceptional trigger sensitivity
Trigger dimension (in inches): 5 x 1.63 x 1.75
Trigger weight: 0.16 ounces
1.9V batteries required
Small in size with alkaline battery
Roland (Model: RT-30HR) Dual Drumming Trigger is the best drum strigger if you want to take your playing skills to the next level. The product is the best fit when it comes to giving a punch to any drum set when it comes to enhancing acoustics. When the acoustic drum heads are hit, the triggers direct the module with a  signal to play a sample without any delay in sync with the acoustic sound. The sounds, when combined, create a hybrid. With the best trigger sensitivity, easy installation process, and compatibility, this is one of the best drum strigger in the market for the inner musician in you.
The drumming trigger comes in black color and is very light. It can be easily carried around anywhere in a little pocket. The product gives you what it is known for and is in the market for a long time. It is a high-end product to make your musical journey a memorable one. The device is highly sensitive and perfect.
The device comes with a self-guiding sensor which prevents false triggering of any kind. It is a perfect option for upgrading an acoustic drum set to a hybrid set with electronics. What's more? It is compatible with all Roland TD modules, including the TM-2 module and percussion pads. The product is very strong and is not easily damaged, no matter how it is handled due to the product outline of fiberglass material. This Trigger is available in black color.
Pros
This drum trigger is made of high-quality and durable reinforced fiberglass; therefore, it provides long-lasting usage assurance.
The drum triggers are highly sensitive, which creates a perfect trigger response for any of your musical gigs.
Due to its size and weight, mounting is an easy process and helps avoid false triggers and provides you with the best acoustic sound
The device is compatible with various modules make it the best fit for your music escapades. It is an ideal drum trigger for all types of Ronald modules.
The body of the device is made of ABS and is outlined with fiberglass making it sturdy and keeps it away from damage for a long time.
The device comes with a connection cable so that you do not have to go around looking for one.
Cons
You should go for this product if you wish to splurge a big amount on a drum trigger. It sits in the big-budget category, which would not be affordable for everyone.
2.

Roland RT-30K Bass Drum Trigger for Hybrid Drumming
Key Features
Advanced trigger device
Protective grip
Innovative mount, self-guided
TRS connection cable included
Self-guiding and mounting installation
Durable fiberglass-reinforced ABS body
The mounting mechanism, highly secured
Trigger dimension (in inches): 38 x 1.5 x 2.5
Music is something that unites people beyond religion. If you wish to become a professional drum player and positively impact your audience with your music Roland (Model: RT-30K) Bass Drum Trigger is great trigger for you that is available in the market for the professional musician in you. Being consistent when it comes to the quality of music you play is very important. It helps you go well with your audience and helps build a reputation that supersedes everything else.
This drum kit is well known in the market for a long time. It is a high-end product with a great track record and reputation. The product is easy to carry around due to its weight and size and makes it the best drum trigger on your musical adventures. The product is highly compatible as it allows you to play electronic sources from any and every kind of acoustic bass drum.
This Ronald bass drum trigger is reinforced with fiberglass components to protect the inside elements of the product and keep it running long for you. It is the best investment that comes in the market in this segment, allowing you to produce effortless and seamless music. It has a hassle-free installation process, and it comes with a TRS cable. This drum trigger is an advanced trigger device for playing electronic sources from an acoustic bass drum.
There's more to it. It is compatible with three Roland's modules, including TD-series V-Drums, SPD-series percussion pads, and TM-2 Trigger. This Trigger is equipped with a Protective grip, which prevents the marring of wood bass drum hoops.
Pros
The product is highly sensitive and does not allow false triggering making it a trustworthy companion.
It is extremely accurate and produces a crisp sound, which is an upgrade if you use any other product from the same category.
The product gives you a really wide range of dynamics, making it easy for you to become a versatile player.
It has a very straightforward plug and plays system.
The product is compatible with the latest drum hardware and helps you in staying updated with the trend in the market.
The product comes with a self-guided and mounting system, which makes the installation process ultra-quick and very easy for you.
It is an instant upgrade from any other product you have ever owned in the same category.
Cons
The product falls in the high-end and expensive range and is not affordable for everyone.
3.

Yamaha DT-50S Metal Body
Key Features
The capability of dual triggering
Complete isolation rim triggering
Solid metal die-cast body
Chrome finish
Yamaha Absolute lug-style design
Small footprint and soft material
Ideal for all types of drummers
Product weight: 14.4 ounces
If you are searching for a fantastic Drum Trigger, then you can trust Yamaha DT-50S Series professional drum triggers. It provides you with exact triggering while upholding the natural feel and endure of your acoustic drums. Yamaha DT Series drum triggers have a sleek and chrome finish solid metal die-cast body, which makes it a tour quality professional drum trigger.
It has the dual-trigger that triggers complete separation between the Head & Rim for dual-zone triggering. It has a small footprint and very soft material for the head contact, so it does not impede the acoustic drum sound at all. The product offers you the best quality sound. It is compatible with any drum module in the market.
Yamaha DT50S is a perfect choice for the drummers who are professional and work on big projects because these drum triggers provide the best quality work. Yamaha DT-50S is also the best companion for the drummers who are in a learning phase. It is convenient as it weighs only 14.4 ounces, and you can carry it around anywhere with you without facing any hassle. It looks stunning on the drum and blends right in on the rim as well. It is a fantastic product that gives you a perfect drumming experience.
Pros
It comes with capability that offers dual triggering experience with total isolation between the head and rim triggering. This product is best for live performances.
It is compatible with different models such as DTXM12, DTX700, DTX502, and DTX900M, which makes it highly user-friendly for all types of drummers – beginners and professionals.
This Trigger for the drums features a chrome finish solid metal die-cast body that gives this product a very classy look. This finish gives it an awe-inspiring look, and it blends right with your drum rims.
This drum trigger offers outstanding build quality and the best in the market.
This drum trigger can generate different sounds as it has a dual-zone trigger facility.
The device comes with a cable that attaches triggers to the drum module through the cable.
Cons
This product comes in high quality and big-budget category, which may not be affordable for everyone.
4.

Pintech Percussion RS-5 Acoustic Head Trigger
Key Features
Exclusive mounting disc
Free-floating chamber
Excellent response and sensitivity
"Kwik Klip" mounting system
Mount capability for shell or head
Excellent sensitivity
Compatible with a variety of drum setups and drum heads
Made in the USA
Drum trigger dimension (in inches): 12 x 4 x 12
Drum trigger weight: 1.6 ounces
Highly portable, easy to carry
Self-guiding, easy to install
Music is something that connects everyone very effortlessly. It doesn't matter what your religion or ethnicity is, music is the best when it comes to connecting people. If you are a professional drum player and want to increase the positive impact of your music on your audience, then Pintech Percussion (Model: RS-5) Acoustic Drum Trigger is the best acoustic drum trigger that is available in the market to boost your music professional career.
It is very important to be consistent in the quality when it comes to music because, with good quality music, you can impress the audience who listens to your music. It helps you to build your reputation that supersedes everything else these days.
This drum trigger kit has a very good reputation in the market for a very long time. It is considered among the best acoustic drums available in the segment. These drum triggers work with almost every module. It can be head or shell mounted to provide outstanding sensitivity and better response. It has a "Kwik Klip" mounting system to ensure that the input jack stays in place and secured to any tension rod without any kind of adhesives.
The product has a free-floating trigger design that allows the Trigger to float easily inside of the covering to allow the best triggering experience and dependability. It is an easy upgrade from any other product of the category. It provides a seamless experience of the music, be it to your audience or you when it comes to installation and usage.
Pros
This drum trigger comes with a shell mount, which provides a sensitive response for excellent drumming performance.
The Kwik Klip ensures safe mounting without the use of adhesive and makes it a hassle-free assembly for the musicians.
This Trigger can be dismounted and re-applied very easily, making the process seamless for you.
The installing process is self-guiding and very straight forward; thereby, even a layman completes this trigger installation successfully.
This product prevents accidental hitting of the Trigger and makes the entire process very safe and protected
This drum triggering unit is made of carbon steel metal and guarantees protection against any heavy-duty usage.
Cons
These might not be sticky enough for the mesh heads
5. ddrum Pro Acoustic Drum Trigger Kit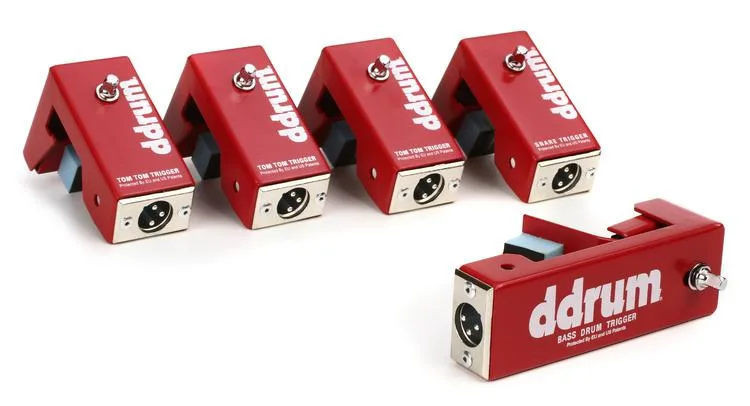 Key Features
The superb ability of tracking
Ideal for discerning professionals
Compatible with several molded hoops
No adhesive required
Compatible with modules of existing drums
XLR output that allows professional and secured connection
Drum trigger weight: 907 grams
Durable Build
The Ddrum Pro Acoustic Trigger Kit comes in a set of five. It is a kit specifically designed for professionals. It is the perfect companion to a triggerable rhythm module and includes triggers for three toms, kicks, and snare that rim separately. The trigger kit is widely preferred by people all over the world, especially because of the durability that is provided by the triggers.
Do not worry, a whack on them by the drummer once in a while is not enough to wear them off. They are sturdy and dependable for long term use. So, if you are in search of a trigger kit that will be affordable, long-lasting, and yield high-performance standards, you should check out the DDrum Pro Acoustic Trigger Set kit.
This drum trigger is an all-in-one kit, which includes all triggers needed to turn a 5pc drum set into a hybrid kit. It features a superb tracking ability. Such a quality is extremely complimentary for a discerning professional. The trigger set fits most types of molded hoops. No adhesives are needed to fit in the triggers. This particular pack included all the five triggers that are necessary to turn a five-piece drum set into a hybrid kit.
The drum trigger kit is compatible with most of the existing drum modules. It also has an XLR output. This ensures a secure and professional connection. The item comes from the house of DDrum, which is a leading producer in instruments for a long time. This provides reliability and security.
Pros
The set is pretty lightweight and can be easily carried around. At the same time, it is the perfect amount of heavy that is required from a trigger set to work well with the drum set.
The set is compatible with most of the drum sets that are available in the market. This means that you don't have to worry about the compatibility issue when you purchase the product.
The company which produces this is widely known all over the world and has a strong reputation. This can assure you of the quality, durability of the product, and post-purchase maintenance and assistance as well.
The set of trigger sets into most types of molded hoops found in the market. No additional adhesive is required to fit it into the hoops. This reduces the need for extra materials and or needs and hence contributes to the easiness in dealing with the set.
The XLR output is among the most important qualities of the trigger set. It is because of this that you should do away with your worries regarding any connection issue. The output provides an extremely professional outlook and use.
This particular set contains all the triggers that you need. There is no need to get a trigger rim separately. This provides all that you need.
Cons
Might need a bit of practice and patience to get it right while performing in a studio.
6. Aquarian Kickzone Trigger for Bass Drumming
Key Features
Kickline Bass Drum Trigger
Adhesive backing
Secure mounting
Cord control bracket
Highly easy to use
Easy to use, handle, and store
Curated to work off the vibration
Cord cable bracket included
Drum trigger weight: 4 ounces
Drum trigger dimensions (in inches): 8.2 x 6.25 x 2
The Aquarian Kickzone Trigger for Bass Drumming is curated in such a way that it works off the vibration of any bass drumhead. It is highly easy to use a drumming trigger. All the essential elements, such as the hi-hat stands, drum triggers, etc. need to be of good quality. Only then do they work appropriately and let you play with ease.
The Aquarian Kickzone comes with adhesive backing, which simply allows secure mounting. Moreover, this drum trigger comes with a cord control bracket that makes sure that the trigger cable stays secure. When you trigger this one into the ¼ inches of DAW interface, then it will result in great sound bass drumming output. The mixing also becomes an excellent experience when you use this inexpensive drum triggering option.
The best part about purchasing this drum trigger will be that it will work appropriately. The product comes with so many fascinating features, and the quality has not been compromised.
Pros
This Trigger is simply amazing as it does the job, as said. It gives incredible results, and the quality is superfine.
This Trigger for drums is curated to work off the vibration that any bass drumhead creates; thereby, it gives a better sound than an acoustic bass drum.
The variance in the velocity and everything else about the product is to the point. It has an adhesive backing which ensures a secure mounting.
It comes with a cord cable bracket which keeps the trigger cable secure; this Trigger is the best option for you if you are on a budget
Cons
The product is efficient and reliable. However, it might not meet your expectations if you buy it without carefully analyzing the features.
7.

ddrum Red Shot 5-Piece Drum Trigger Kit
Key Features
Natural dynamics recognition
Compact metal housing
Sturdy, roadworthy construction
Metal casing, 1/4″ output jack
Compatible with all sound modules
Fits most types of molded hoops
No adhesive necessary
Budget-friendly, 5-piece trigger kit
Drum trigger weight: 3.2 ounces
Drum trigger dimensions (in inches): 1 x 1 x 3
When it comes to Red Shot triggers, they are a low-cost option in ddrum's line of triggers. This ddrum 5-Piece (Red Shot) Trigger Kit for Drumming is of the incredibly unique products. When it comes to drumming, the job of a drum trigger is to bridge the gap between the electronic and the acoustic drum sets. From the best vocal mics for singing drummers to drum triggers, everything is essential to create the perfect sound.
The quality of this product is impeccable, and it is a very good option. This is a great drum trigger when you want something budget-friendly.
Pros
This drum triggering device is an all-in-one 5-piece kit, which offers a natural dynamic recognition feature that makes the sound quality overwhelming.
It is curated to reduce cross-talk and double triggering and fits almost all types of molded hoops – no adhesive is needed for fitting.
This Trigger is easy to use and carry; and, it is compatible with most types of sound modules. This makes it a ready option both for beginners and professionals.
It is a great product, and it works without causing any issues; the features are amazing, and you get all of these in a cost-effective, affordable price range.
Cons
To get a good sound, you will have to put this Trigger at 2 o'clock or 11 o'clock
What to Look for in the Best Drum Trigger?
There are a variety of parameters that need to be considered while selecting the best electronic drum pad, kick drum mics, snare drums, sound modules, drum mats, and even Drum triggers. We would discuss them one by one along with the Triggers that rank the best in them:
Compactness: The drum Trigger should be compact, and it should be easy to fit in every drum hoop. Compact triggers are easy to carry and highly portable; therefore, even kids and professionals may use it.
Convenience: Installing the Trigger should be easy. You do not want to spend your time setting up the component inside the drum itself. The best is if you get a drum trigger that is accompanied by an easy to set up the user's manual or an installation guide.
Sturdiness: A component like Drum Trigger should be of exceptional build quality, i.e., it should be extremely strong. There are many varieties of materials that are used to manufacture or pack it. One of the most popular is the trigger unit inside a strong and durable light fiberglass body. It should be a robust yet lightweight acoustic drum trigger.
Dual Triggering: One of the most important functions that a professional drum trigger should have is dual triggering, which makes it possible to trigger the drum head and the rim separately. When out shopping, you should always look for this feature to ensure your purchase is completed wisely.
Sensitivity: Drum triggers operate on the sensory option; it senses the hardness of your drum operation. The audio module receives a signal to play the sample. This whole process works within a fraction of a second.
Response: As we discussed before, these triggers operate on your drumming capabilities – how hard you can drum. The audio module receives a signal to play the sample. This whole process works within a fraction of a second.
Self-Mounting System: The self-mounting system helps you in automatically placing the sensor correctly against the drum head. This drum triggering sensor is primarily required in offering the necessary response and sensibility.
Compatibility with Other Products: A drum trigger has to be compatible with your equipment. This is probably the most important parameter to consider while selecting the right drum trigger. Generally, the popular ones are compatible with the major equipment; still, it would be better to be sure.
Price: Although this is not an issue for professionals, it is still a major parameter. People who are just learning to play the drum, such as kids, need not buy expensive drum triggers. Here, the budget should be considered. If you are a professional, you should be ready to spend a fortune when shopping for the best drum trigger for yourself.
Brand Value and Warranty: Considering the brand when choosing drum triggers for a professional drumming session – be it performance or practice is vital. Good brands provide warranty and after-sales customer care services, which are vital if you intend to purchase a drum trigger for long-term use.
Conclusion
It is not an easy task to select the best drum triggers or the best drum kit. Out of the above mentioned seven popular triggers in the market, the overall winner for us is Roland RT-30HR. It has a dual-action feature, is highly portable, ultra-compact, can fit any drum hoop design, has high trigger sensitivity, fast processing speed, and is reliable and performs accurately.
This Ronald drum trigger is also compatible with Roland's TM-2, TD-series V-Drums modules, and SPD-series percussion pads. It is an ideal tool to get a MIDI tone from your acoustic drum. Hammering on the snare drum as fast as we can, triggering still appears to be accurate with no noticeable latency. We leave the rest for you to act on. We hope you can buy the right product for your purposes.