John Frusciante's name might not be immediately recognizable to the average music fan, but as lead guitarist for the funk rock group Red Hot Chili Peppers from 1988-1992, and again from 1998-2009, his tone is very distinct and instantly recognizable. Massive hits like Give It Away, Under the Bridge and Otherside sound nothing like anything that came before them. Part of that can be attributed to his playing style, while the rest can be put down to the guitars, amps and effects he used.
We'll take a look at John Frusciante's gear during the Chili Peppers years to analyze how he achieved his tone, and look at some of the artists that inspired him and how their playing style and gear influenced him.
About John Frusciante Sound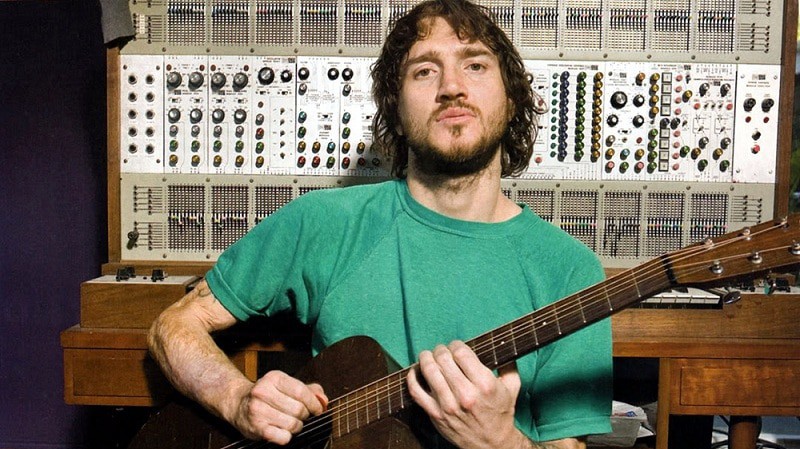 1. The Beginnings
John was just 18 when joined the Chili Peppers in 1988 following the firing of Blackbyrd McKnight, who himself was a recent replacement for original guitarist Hillel Slovak who died of a heroin overdose earlier that year.
He was an unusual choice for the band since he did not have a background in funk music as the previous guitarists had. His earliest influences were not that different from any of the thousands of other young guitarists of the day, basically, Jeff Beck, Jimmy Page, David Gilmour and Jimi Hendrix.
At age 11, he discovered Frank Zappa, and by age 15, it had become an obsession. In the liner notes for the 2007 Frank Zappa album The Dub Room Special!, Frusciante writes, "By the time I was 15 I owned all of the records and was spending about 70% of my musical life studying and learning his music. For me, striving for the perfection he was known for demanding from his bands was a powerful motivation and force behind the huge amount of practicing I was doing back then."
As a result, when he first joined the band, John concentrated on emulating Slovak's unique style rather than trying to impose his own sound on the band.
2. Evolution Of Frusciante Tone
During production of the Mother's Milk album in 1989, producer Michael Beinhorn wanted John to play with more of a driving heavy metal tone that was popular at the time, but one that was more or less absent from the band's first three records. John wanted to use acid-rock guitar tones as well as a lot of slinky, sexy, funky guitar tones.
Beinhorn's idea won out, as Frusciante felt pressured by the producer's much greater knowledge of the studio. This is evidenced by tunes like Higher Ground, Knock Me Down and Nobody Weird Like Me. While none of these tunes could be described as metal, they were definitely different from the material on the Chili Pepper's previous albums.
Nevertheless, there were songs on the album that displayed John's growing ability to incorporate elements of funk and jazz into his sound. Tracks like the James Brown-esque Subway to Venus and Taste the Pain are heavily infused with funk rhythms.
Blood Sugar Sex Magik
It would be difficult to overstate the importance of Blood Sugar Sex Magik in breaking the Red Hot Chili Peppers to a more mainstream audience. On an individual level, it shows John Frusciante really coming into his own as an artist.
The first single off the album, the frenetic Give it Away, shows him really solidifying the funky, sometimes staccato groove that would become instantly identifiable as his unique tone.
The quirky Mellowship Slinky in B Major harkens back to the Frank Zappa influences in his past with its complex fret work and studio tape effects.
The jazz-flavored Under the Bridge shows John becoming comfortable with a more subdued and understated tone while still featuring the guitar as a key element in the mix.
Departure … And Return
John left the band in 1993, deciding that the band had become "too popular" leaving him unhappy. He also was dealing with personal issues, including growing substance abuse issues. He ended up conquering his demons and returned to the band in 1998 following the departure of Dave Navarro.
It's impossible to determine what it was that changed in the period from 1993-1998, since, by his own admission, much of it is lost to a drug induced haze; but upon his return, John's sound maintained much of its earlier funk flavor, but it was now more mature and refined, having lost some of its former looseness. This was apparent not just on more mellow numbers such as Scar Tissue and Otherside, but also on more driving songs like Around the World.
By The Way And Stadium Arcadium
John's third and fourth albums with the band further solidified and refined his sound. 2002's By the Way was much more pop oriented than previous albums.
Nearly absent of singer Anthony Kiedis' rap/rock lyrical style, we also find John branching out in more acoustic and melodically complex directions. The song On Mercury featured elements of ska and the heavily flamenco influenced Cabron showed that the band, and by extension, Frusciante, were willing to take some real chances.
Stadium Arcadium was in some ways a progression from By the Way, but in other ways, it showed that John was more comfortable in being able to look back and reincorporate a funk sound into some of their music. Tracks like Hump de Bump and Storm in a Teacup recall some of the earlier Chili Peppers albums with their funk, rap and R&B influences.
3. John's Playing Style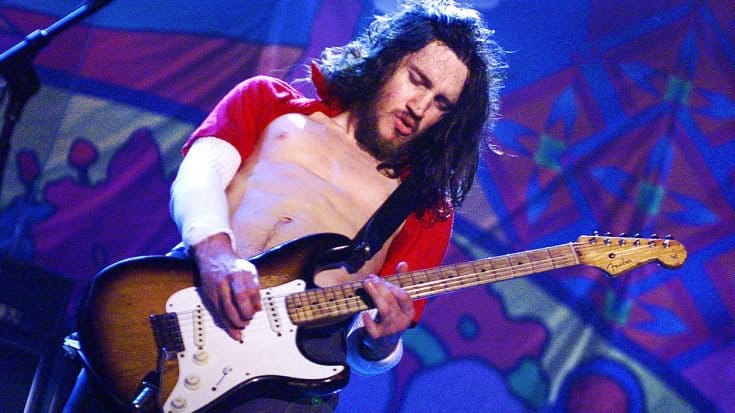 John's technique could best be described as melodically driven allowing the melody of the tune to dictate his playing. He is noted for his knowledge of music theory and perfectionism. With most guitarists, this sometimes affects their ability to play with looseness because they are trying so hard to be perfect, but this isn't the case with John.
Although, he can demonstrate his virtuosity with the instrument, he deliberately downplays this because he feels that his music needs to be more organic and natural. Even more remarkable is that he's not afraid to take chances and be experimental, whether with his playing style or his use of electronic effects. Much like his early idol, Frank Zappa, John is a fan of shaping sound with effects like echo, reverse, and modulation (phasing, flanging, chorus, etc.).
In addition to Zappa, John also cites Jimi Hendrix and original Chili Peppers guitarist Hillel Slovak as huge influences. Somewhat predictably he includes avant-garde artists such as Sid Barrett, The Velvet Underground and Kraftwerk amongst his influences. What is somewhat surprising is that he also includes glam rockers like David Bowie and T-Rex.
For the purposes of this article, we will focus solely on John's work within the context of his time with the Red Hot Chili Peppers. John's career body of work is so extensive and diverse that in-depth coverage of it could entail several volumes. Keeping it restricted to just his career with the Chili Peppers makes it much more manageable.
Analyse John Frusciante Gear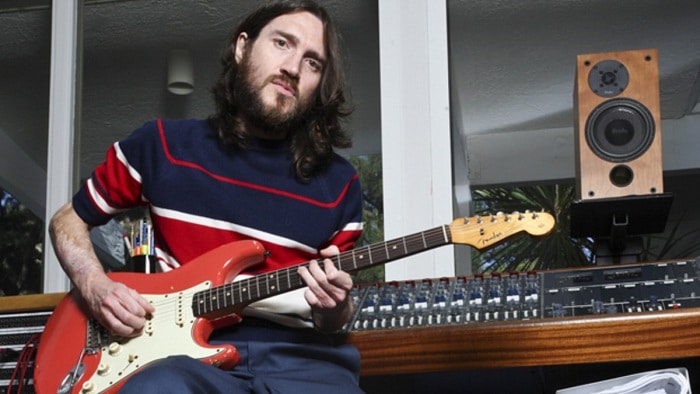 1. John Guitars
An exhaustive list of John Frusciante's guitars would be nearly impossible to obtain. Most sources put the number of different guitars John used with the Chili Peppers at around 40. Here, we'll focus on three guitars that were the most crucial in defining his sound over that period in his career.
Fender Stratocaster (Detail)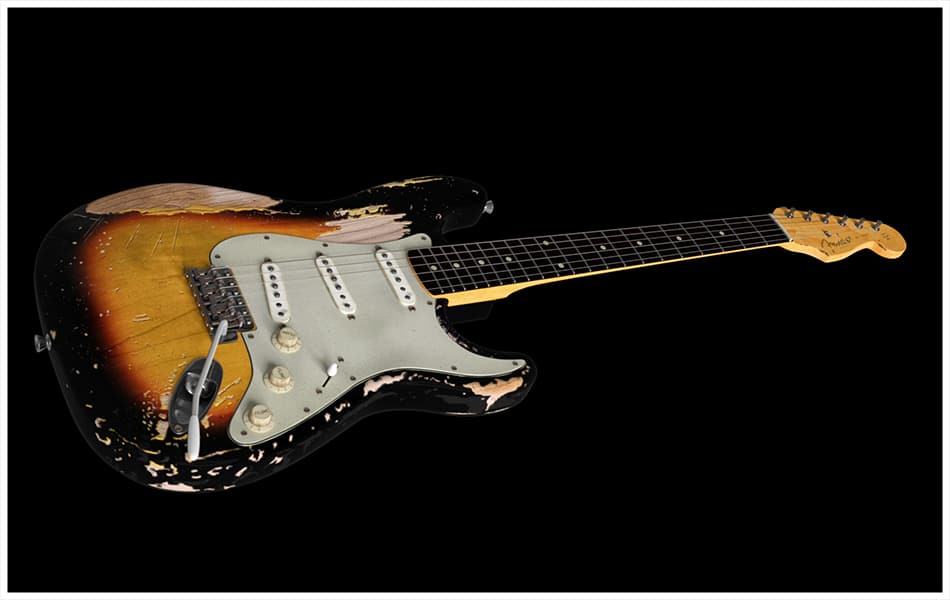 John was known to favor two tobacco sunburst Stratocasters, a 1955 and a 1962. Both guitars are set up identically with Seymour Duncan Vintage Strat pickups. He said he was originally satisfied with the stock pickups, but said that they eventually needed to be changed, and the Duncans were nearly identical to the stock pickups.
The only difference, in terms of appearance, between the two guitars is that the '55 has a maple fretboard, while the '62 has a rosewood fretboard. He was quoted in an interview with Vintage Guitar magazine as saying the '62 is the "most important to him sentimentally". The thin, bright and funky tone so prominent on the Red Hot Chili Peppers' early albums was largely due to this guitar.
That classic Strat tone is instantly recognizable on the opening track of the Mother's Milk album, Good Time Boys, and even more so, on the Chili Peppers' remake of the Hendrix classic Castles Made of Sand. This clip below from a 2002 Top of the Pops episode shows John with his '62 Strat on Under the Bridge.
Fender Telecaster (Detail)

Although John has always favored Stratocasters as his main guitar, he told Vintage Guitar magazine that "Around By The Way, I played Teles more than a Strat."
John's Tele is a stock 1963 model with a rosewood fretboard. For the most part, he doesn't seem to be inclined to modify guitars with hotter pickups or upgraded hardware. Given the tighter more evolved sound of By The Way, the more basic and stripped down tone of the Tele was probably an appropriate choice.
The signature twang of the Tele can be easily heard in This is the Place and Warm Tape off that album. John can be seen with this Tele in this clip below of Can't Stop from the Chili Peppers Yokohama show in 2004.
1965 Gretsch White Falcon (Detail)
Apparently John stumbled upon this guitar by accident during a shopping spree. In an interview with Vintage Guitar magazine, when asked about some of his favorite guitars in his collection, Frusciante mentions his Gretsch White Falcons.
He talks about how he came to find it by purchasing different guitars thinking he would play a different way on each: "If I hadn't gone through a phase of buying, I never would have came upon the White Falcon…" This guitar became an important part of the Californication album, being featured on the title track, Californication and also on Otherside.
The rich, punchy hollowbody sound is easy to differentiate from the thinner more treble heavy sound of the Telecaster or Stratocaster, while the Gretsch's distinctive filtertron pickups give it a nice ringing twang. This clip from a 2002 Top of the Pops episode shows John playing the White Falcon on Californication.
2. Ampllifiers
Disclaimer!
About the amp settings, since there are no reliable resources about John's amp settings all the settings we talk below are based on our own listening, reasearch and experience about John's sound.
Fender Dual Showman (Detail)
John used this amp strictly with the Gretsch White Falcon. The classic Fender reverb pairs well with the jazzy hollowbody of the Gretsch. The only effect John used with this amp's signal chain was a BOSS distortion pedal (see signal chain illustration in the following section).
While I am unable to track down the exact settings he used when he played any of these amps in concert or in the studio, it's easy enough to listen and come up with some ballpark figures that would help you come close to replicating his sound.
I would set the Bass about the same, at 5.
The Presence would be set around 5 as well.
The Speed control, which controls the speed of the vibrato effect of Fender amps would be set low at around 2, and the Depth control, which controls depth of the vibrato effect might be set a bit higher, at about 3.
Marshall Silver Jubilee (Detail)

The Silver Jubilee is one of two main amps John uses. Since they were only produced for one year (1987), it is rare and expensive.
This 100 watt amp faithfully reproduces the classic British sound of the 1962 Marshall 100 watt head with some modern upgrades in components to make it more reliable. The Silver Jubilee is widely respected for its stable frequency response whether clear singing highs, or crunchy growling lows.
The Bass is backed off to give the sound its brightness, set at around 3 or so.
The Middle would be about the same, set at about 3.
The Treble is bumped up to give the sound some high-end, so that would be set at around 7 or 8.
The Output Master and Lead Master would both be set at around 7 or 8 to add some punch to the sound.
Finally, the Input Gain would probably be set somewhere below 5 to prevent the input signal from being too distorted.
Marshall Major (Detail)
The Major is essentially a souped-up version of an older model JCM 800 in a 200 watt package. It is very basic with just a Presence control, Bass, Middle and Treble and two volume controls, one for each channel. John can blend the Major and the Silver Jubilee, adding more of the Major when he wants a heavier, more driven sound.
The settings for this amp would be similar to those of the Silver Jubilee.
The Bass would be set at about 8 and Middle would be set at about 5.
The Treble might be set a bit lower than on the Silver Jubilee because the Major would be used to provide a heavier tone, no higher than 7.
Since he uses only the first channel, he would use the Volume I control and have that set at about 7 or 8, maybe 9 if he's playing live.
Marshall 1960b Cabinets (Detail)
John uses six Marshall 4×12 cabs, two each for the Marshall Major, Silver Jubilee and Dual Showman. He uses the stock Celestion speakers. As with his guitars, John is not known for modifying or "hot-rodding" his amps.
3. John's Effects
The main signal chain for John's Fender guitars (Stratocaster and Telecaster) and amps is shown beside. The number and types of effects varied throughout his career with the Chili Peppers, so the effects shown in this diagram are just representative of his early setup, the point being to show that the signal for his Fender guitars was run through a more extensive pedalboard setup rather than a single effects box like the White Falcon.
The signal chain for the Gretsch White Falcon is separate from the signal chain for John's Fenders consisting of just the guitar, a BOSS DS1 distortion pedal and the Fender Dual Showman Amp.
John's effects setup evolved throughout his time in the Chili Peppers. We can look at different setups throughout that period, and see how this evolution took place. None of these are definitive as John was known for frequently adding and removing effects to suit where he was in his head. If something wasn't working or he found he liked or disliked a certain effect, he would add or remove it, depending on how he was feeling.
In that sense, he was probably like most of us average guitarists, playing around with his setup until it was to his liking. Below, you can see four effects setups he used from Mother's Milk all the way up through Stadium Arcadium. A description of each of the effects follows.

Mother's Milk And Blood Sugar Sex Magik Era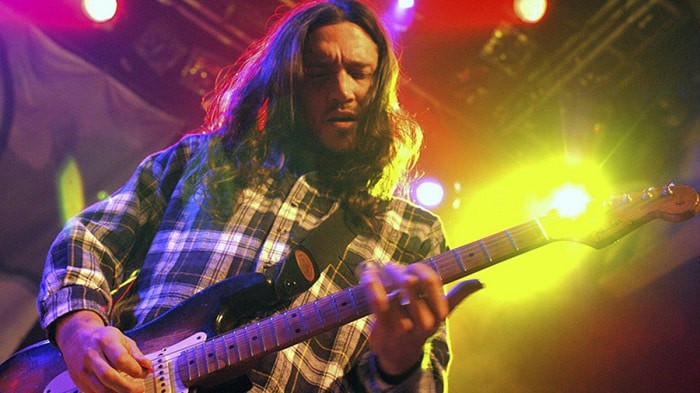 Boss CE-1 (Detail)
This is the only chorus effect John kept in his rig throughout his career with the Chili Peppers. This is a solid basic chorus with normal and vibrato modes.
Ibanez WH-10 (Detail)
The WH-10 has also been a consistent component in John's rig from the beginning. A good example of the use of this pedal was the frenetic solo in the second half of the song Around the World from the Chili Peppers' live show at Slaine Castle.
Boss DS-2 (Detail)
The DS-2 was also with John from beginning to end and he used it on almost every song. This may be one of the biggest factors in his overall guitar tone since the clipping effect it imparts is so much a part of nearly every song in the Chili Peppers' repertoire.
Californication Era
In this era, John still used Boss Chorus Ensemble, Ibanez WH-10 and Boss DS-2. He also added more effects to his signal chain as the image below.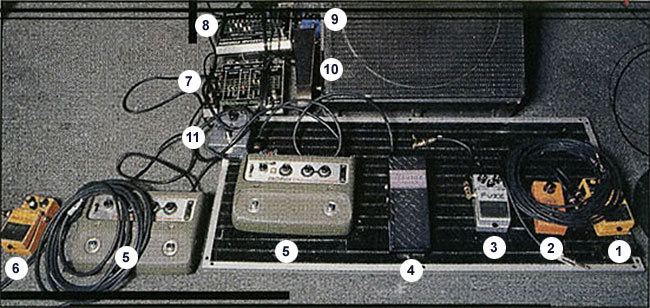 Mxr Phase 90 (Detail)
John has been using the Phase 90 since at least the Blood Sugar Sex Magik album. The sweeping, "spacy" effect can be heard on songs like Savior from the Californication album, especially on the opening licks and the outro.
Boss Fz-3 (Detail)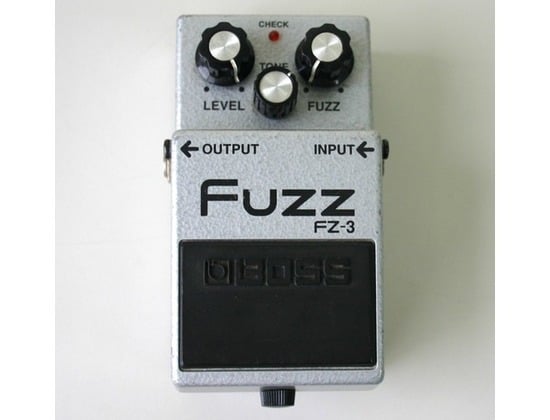 John has used a couple of different fuzz devices, probably an homage to Jimi Hendrix (one of his early influences), this one being the first. Blood Sugar Sex Magic has a couple of good examples of this device in use, including the title track and The Greeting Song.
Boss DS-1 (Detail)
It appears that this distortion was used only with the Gretsch White Falcon. The DS-1 is a good choice for this application since with all three knobs turned down to about the 9 o'clock position, the box produces a nice subtle distortion that isn't too noticeable, but dirties up the tone just a bit.
EHX 16 Second Delay (Detail)
Used on the recording of Californication, it appears the only song it was used on was Savior. It's unclear as to why this particular device was used since the delay used on the song could easily have been created by any standard digital or analog delay box. Perhaps it was just that John liked the tone of this effect.
Ehx Micro Synthesizer (Detail)
John acquired an interest in guitar synthesizers early on. In fact, in the Vintage Guitar article mentioned above he speaks about turning a white Fender Jaguar into a Roland GR-300 guitar synthesizer by replacing the stock pickups with hex pickups.
Dunlop Uni-Vibe (Detail)
This chorus was used to augment the BOSS chorus ensemble and provide a chorus effect with a stereo output.
By The Way Era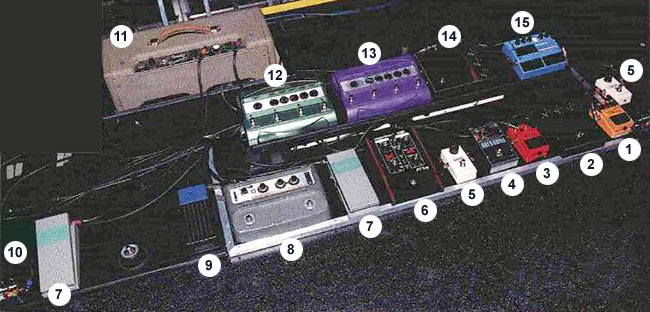 In this period, John modified his setup by eliminating the Electro-Harmonix delay, Micro Synthesizer, unknown device, expression pedal and Dunlop stereo chorus and replaced by some new effects.
EHX Big Muff Pi (Detail)
This analog fuzz box replaced the FZ-3 fuzz on John's pedalboard, probably because it provided a more organic tone.
Boss PSM-5 (Detail)
The PSM-5 can be used to provide DC power to all of the effects on your pedal board and/or create an independent effects loop that can be switched on and off with this pedal. It appears that John used it merely as an external power supply since he liked to trigger his effects individually.
EHX Holy Grail Reverb (Detail)
This digital reverb faithfully recreates a spring reverb unit and was used quite extensively to create John's signature sound until it was replaced by a vintage Fender tube reverb unit.
MXR Micro Amp (Detail)
The micro amp is simply a device to boost the signal strength in the effects chain without coloring the tone.
Moog MF103 (Detail)
The MF-103 is a 12 stage phaser effect taking directly from the phase circuit of the original Moog modular synthesizer. The weird phase shifted sound produced by this device can clearly be heard on the songs Trow Away Your Television and Don't Forget Me from By The Way.
Boss FV-50 (Detail)
Good basic stereo volume pedal.
Z.Vex Fuzz Factory (Detail)
Versatile boutique fuzzbox can be heard sprinkled through the By The Way album, particularly on Can't Stop.
Fender Tube Reverb (Detail)
A stand-alone tube reverb unit based on the same circuit as the Fender Reverb amp line. Gave John the distinctive twangy sound present on the later Chili Peppers albums.
Line 6 DL4 (Detail)
Delay unit with multiple delay modes and integrated looper that allowed John more delay options than a standard digital or analog delay.
Line 6 FM4 (Detail)
Presumably a replacement for the Electro-Harmonix synthesizer from the Californication era.
EHX Deluxe Electric Mistress (Detail)
Flanger effects pedal, frequently used in conjunction with the phaser. Can be heard on the title track of By The Way.
Digitech PDS 1002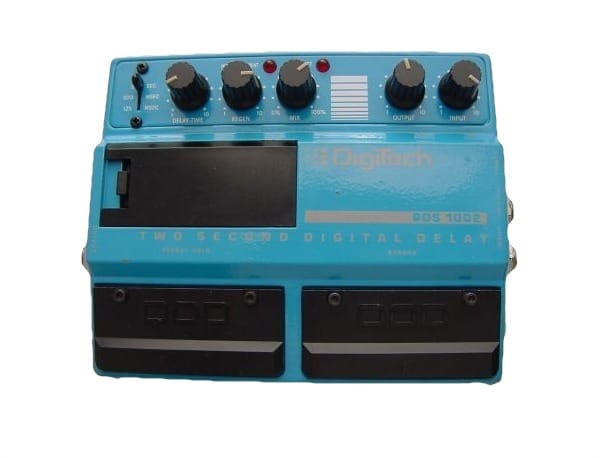 Used in conjunction with the Line 6 delay modeler to provide more sophisticated modeling of the delay signal.
Stadium Arcadium Era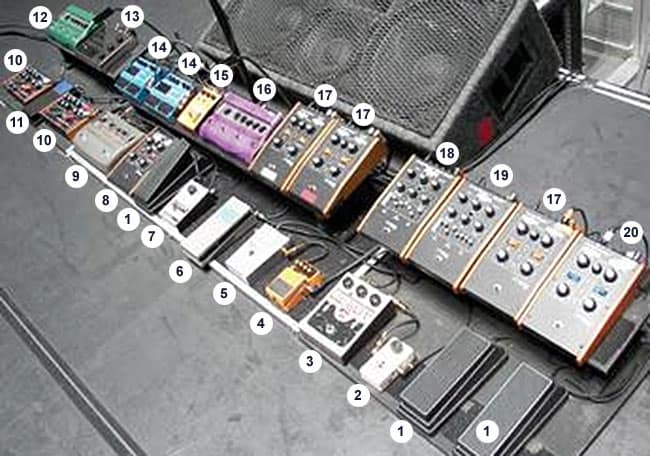 In this era, he moved out Boss PSM-5 and Fender Tube Reverb and added a lot more effects.
Moog Expression Pedal (Detail)
Interfaced with the Moog devices on the pedalboard to shape the way the effects sounded.
Mosrite Fuzzrite (Detail)
Replaced the Z-Vex Fuzz Factory on John's pedalboard. The FuzzRite is an analog fuzz that has a brighter, "grungier" tone than the Z-Vex, which is perhaps an odd choice considering Stadium Arcadium's cleaner more pop-oriented flavor, but at lower volumes, it can produce a subtler effect.
Moog CP-251 (Detail)
The CP-251 is a signal modulator taken directly from the control processor circuit of the original Moog modular synthesizer. It controls functions like signal oscillation that can produce swooping, vibrato and other weird noises such as sirens. Another expression of John's fascination with synthesizers.
Guyatone VT-X (Detail)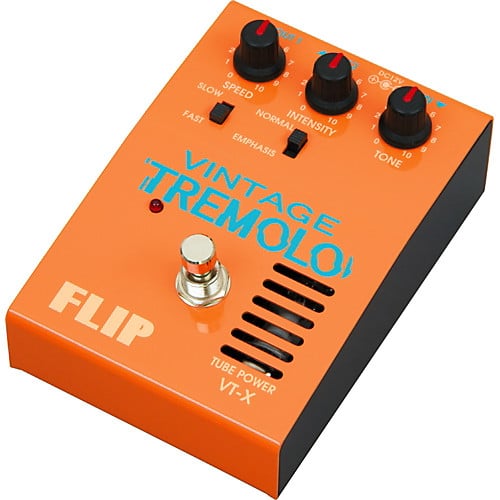 Basic analog tremolo unit heard on numerous songs on Stadium Arcadium.
Moog MF-101 (Detail)
Also from the Moog modular synth, this filter effectively filters out the high frequency sounds from the signal giving the guitar a more muted, mellow sound. This device is primarily responsible for the more mellow, subdued sound of the Stadium Arcadium album.
Moog MF-105 (Detail)
The MF-105B and MF-105, both from the Moog synthesizer work together to function something like an equalizer, allowing some frequencies to pass while filtering out others. The difference is that these filters allow for much more fine tuning than an equalizer would by allowing certain frequencies to be boosted while allowing others to remain unchanged. These were a foreshadowing of John's post-Chili Peppers ventures into electronic music.
Moog MF-102 (Detail)
Yet another component derived from the Moog synthesizer, this is an interesting effect that takes the signal from a guitar and divides it into two separate signals. The signals can then be oscillated (or one can be oscillated leaving the other as is) and then recombines the signal at output leading to some wild effects, swooping, dive-bombing, screeching, depending upon how the modulator is set up. The solo for C'mon Girl from Stadium Arcadium shows these functions to best effect.
4. John's Accessory
According to the aforementioned article in Vintage Guitar, John plays D'Addario .010s with medium action. He likes orange .60 mm Dunlop Tortex picks which are on the light side, with the thinnest available pick being the .50 mm.
John has said that the lighter pick allows him to play with more variation. "It seems like I can apply more variation in sound by having a pick like this, depending on how you hold it. You can do the same thing you can do with a heavy pick, but a heavy pick can't ever really do what a lighter one can do in terms of rhythm playing."
Wrapping Up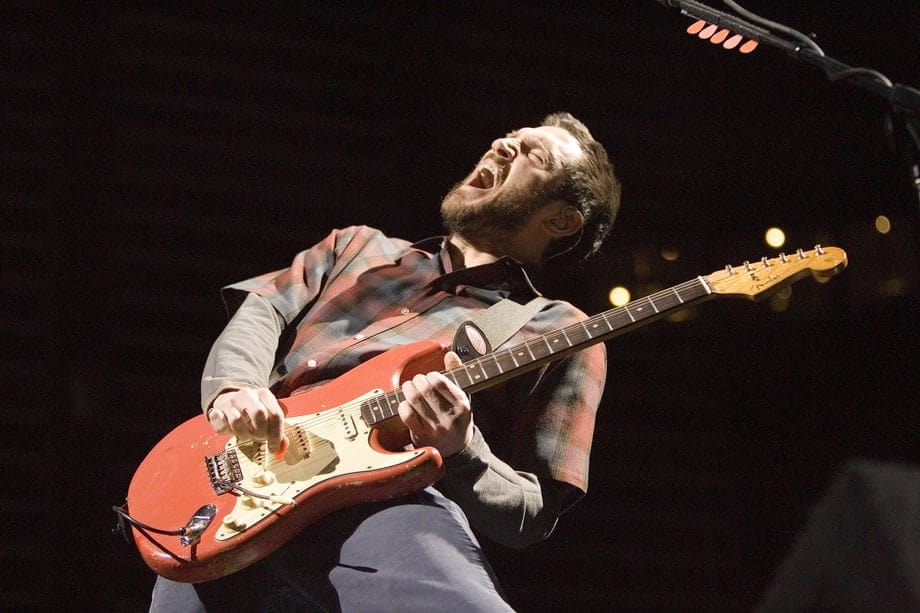 Hopefully this article has give you some insight into the components of John Frusciante's unique sound and that you have found some value in it. If you enjoyed the article or have any additional comments, please leave them below, and as always, keep rocking.