John Mayer is unquestionably one of the premier guitar wizards of the 21st century. From the beginnings of his career in as a solo artist in the early 2000s to his more recent collaborations with Bob Weir of the Grateful Dead, he has developed a signature sound that is quite distinctive. We'll take a look at John Mayer's gear to analyze how he achieves his tone and look at some of the artists that inspired him and how their playing style and gear influenced him.
About John Mayer's Tone
1. The Beginnings
According to a 2007 article in Rolling Stone, Mayer began taking serious interest in music when he was first heard the legendary blues guitarist Stevie Ray Vaughan at the age of 14. "I was so obsessed with Texas guitarist Stevie Ray Vaughan that, Mayer recalls, laughing, "in my mind, I was on my way to being the next Stevie Ray." That in turn led him to research the other great bluesmen that formed the foundation for the blues guitarists of today. Mayer continues, "Stevie also began this amazing genealogical hunt for me: Buddy Guy, B.B. King, Freddie King, Albert King, Otis Rush and Lightnin' Hopkins." In this video below, Mayer explains why Vaughan was such a huge influence for him.
Mayer's tone compares favorably to his idol Stevie Ray Vaughan as this clip of him performing the Vaughan's classic song Lenny.
Here is the original Stevie Ray version.
2. Continuum
Perhaps the best demonstration of Mayer's range and versatility can be found in his triple platinum selling album Continuum. Combining elements of R&B, blues and pop rock, Continuum received mixed critical reviews but his blues background is clearly evident in songs like The Heart of Life that starts off with a simple 4/4 blues shuffle and features vocals that are eerily reminiscent of a young Steve Winwood.
Slow Dancing in a Burning Room is a smoldering blues number with a solo that could easily have been pulled from a Stevie Ray Vaughan album.
Bold as Love is an updated reimagining of the classic Jimi Hendrix tune of the same name.
In Repair is another blues classic that recalls Led Zeppelin's Your Time is Gonna Come and Lynyrd Skynyrd's Tuesday's Gone. Mayer talks in depth about this album and his approach to writing and recording it in this NPR interview.
3. Some Notes On Mayer's Tone
Early in his career, Mayer played Fender Stratocasters almost exclusively. His first guitar was a Stevie Ray Vaughan Signature model, and like his idol, he relied heavily on a mixture of neck and middle pickups for the fatter, warmer sound they produced.
When it came time to produce his own signature guitar "The Black One", he was insistent that it had the same sort of "relic" finish, not because he wanted it to look old, but because to him, there was a certain resonance in a guitar that was partially unfinished.
Part of what makes these guitars different from other Strats – and has a tremendous influence on his overall tone – is in the use of the so-called "Big Dipper" pickups. The story behind these pickups, is that they were incorrectly wound, resulting in scooped mids (meaning lower midrange frequency response). As a result the treble response is substantially stronger on these guitars than on standard Stratocasters.
As Mayer's repertoire has become broader and he has gained confidence in himself as a musician, he has severed his business relationship with Fender and more often plays a Paul Reed Smith Super Eagle that he helped design. According to John, he likes the longer scale length and more sophisticated electronics, giving him wider tonal options, and dramatically changing his sound, making it fatter, but at the same time, adding a "shimmer" to his tone.
A big part of John's sound is the vibrato/reverb effect he gets from his amps. From his first Fender amps, to the Dumble Steel String Singer, to the inclusion of the Fender Bandmaster in his amp trio from the late 2000s to early 2010s period, all of his amps are known for their distinctive reverb.
What is a little unusual is that his new PRS signature amp does not feature built in reverb. His explanation for the change was that he has come to prefer separate reverb effects devices (pedals and standalone reverb tanks) because it allows him to fine tune the reverb to his personal tastes rather than relying on what the amp has to offer.
Analyse The Gear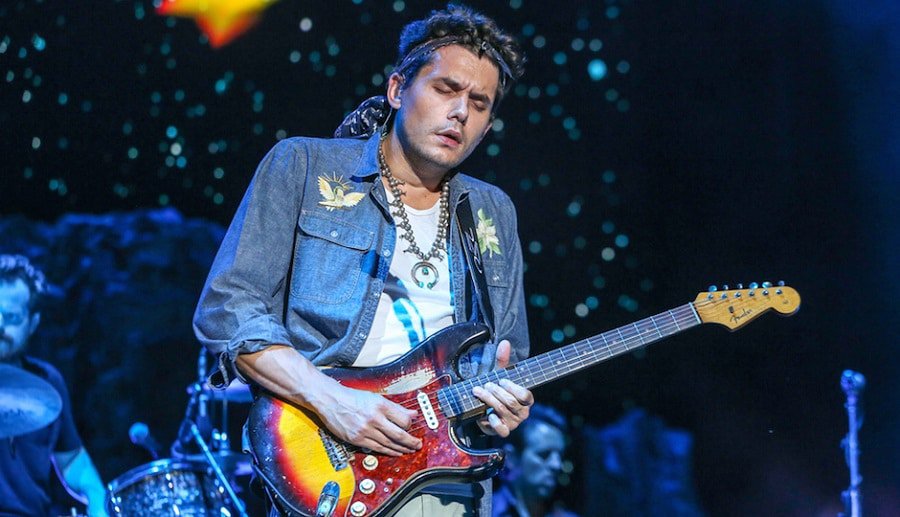 In contrast to a lot of prominent guitarists, John Mayer is not known for playing a wide variety of guitars. Although he famously has a collection of over 400 guitars of various makes and models, on stage and in the recording studios up until recently he has stuck primarily to Fender Stratocaster model guitars.
Although he severed his official ties with Fender in 2014, he still plays Strats onstage for certain songs. He now officially endorses Paul Reed Smith guitars and has his own artist model called the Super Eagle.
John's amplification has been almost as consistent as his guitars. He is best known for using the Dumble Steel String Singer amp for a number of years. Dumble amps are extremely rare – only 300 of this particular model are known to exist – and are a big part of his signature sound.
In addition, up until recently his "main" amp has been the Two Rock John Mayer Signature model, a dual tube rectified 100 watt amp based on the company's Custom Reverb model.
Currently, he uses a Paul Reed Smith J-Mod 100 amp built to his specifications.
1. John Mayer's Guitars
Fender Srv Signature 
The first guitar that truly had a distinctive impact on John's signature sound was a Fender Stevie Ray Vaughan signature model purchased in 1996 and used for the first few years of his solo career.
This guitar was the first he owned outfitted with the now famous "Big Dipper" pickups. The story is that the original Big Dippers were accidentally underwound (fewer turns of wire around the bobbin) and as a result were lower in output than the regular Fender pickups, and hence were missing some of the Stratocaster's usual mid-range punch.
That classic Stevie Ray Vaughan sound is instantly recognizable in the song Love Soon from the 1998 demo EP John did with his partner Clay Cook, calling themselves the Lo-Fi Masters.
The solo begins at about the 3:00 mark, and the absence of those mid-range frequencies and enhanced treble can clearly be heard.
In this video below, Mayer shows off this guitar and explains the story behind it.
Fender John Mayer Signature (Details)

Easily the most recognizable, if not iconic, models played by John is his Fender John Mayer signature Stratocaster. It is easily identified by the black "relic" finish. This guitar, variously referred to as "the Black One", "the BLK1", or "TBO" has a couple significant differences from standard Stratocasters and these differences contribute heavily to his sound.
First, as with the Stevie Ray Vaughan model, the Black One has the Big Dipper pickups. The other difference is that the relic finish is intentional and is not just cosmetic. John explains that he feels that a heavy paint or lacquer finish has an effect on the tone of a guitar, and found that instead of stripping it down to the bare wood (which was visually unsatisfying) he could just sand down parts of it and achieve the same effect.
As with all of his guitars, he also sands down the back of the neck to bare wood to enhance the feel. The first place this guitar appears is on Bold As Love off the Continuum album. One of the first live performances to feature this guitar is at the Live at the King of the Blues 2006 concert with B.B. King.
Gibson ES-335 
Also worth noting is his red classic Gibson ES-335. The ES-335 features a semi-hollowbody, giving it a great amount of resonance and two humbucker pickups.
As Mayer's tone evolved to feature more complexity and a warmer approach to some songs, he used this guitar more and more often in live performances. Mayer plays this when he is looking for a more traditional bluesy sound like this 2006 performance of I'm Gonna Find Another You on David Letterman.
Though he has never explicitly stated so, it is probable that his decision to include the twin humbuckers on his new PRS Signature model was influenced by his desire to have this tone available to him.
PRS Super Eagle (Details)

John's current signature guitar is the Paul Reed Smith Super Eagle. Much of his sound post-2014, particularly with his supergroup Dead & Company, featuring former members of the Grateful Dead Bob Weir (guitar), Mickey Hart (drums), and Bill Kreutzmann, can be directly attributed to this instrument.
The scale length of this guitar is 25.375 inches, slightly shorter than the 25.5 inch scale of the Stratocaster, but longer than that of most other PRS guitars (25 inches).The real changes are in the electronics. The Super Eagle is a three pickup guitar with 58/15 JM humbucking bridge and neck pickups and a specially-wound Narrowfield JM pickup in the middle position.
The Narrowfield pickup is similar to the DiMarzio Cruiser or Seymour Duncan Hot Rails pickups which are humbucking pickups in a single coil package. While the Narrowfield is wider than these pickup, the dynamic response is similar, producing a bright, clear treble tone with less bass and mid-range, with the noise cancelling properties of a traditional humbucker.
Desiring a wider tonal palette, he also designed the guitar with individual coil-tap mini-switches for each pickup, allowing him to go back to the single coil sound he is more familiar with should he desire to do so. A JCF Audio preamp provides treble boost similar to what you would get with active electronics.
2. Amplifiers
Dumble Steel String Singer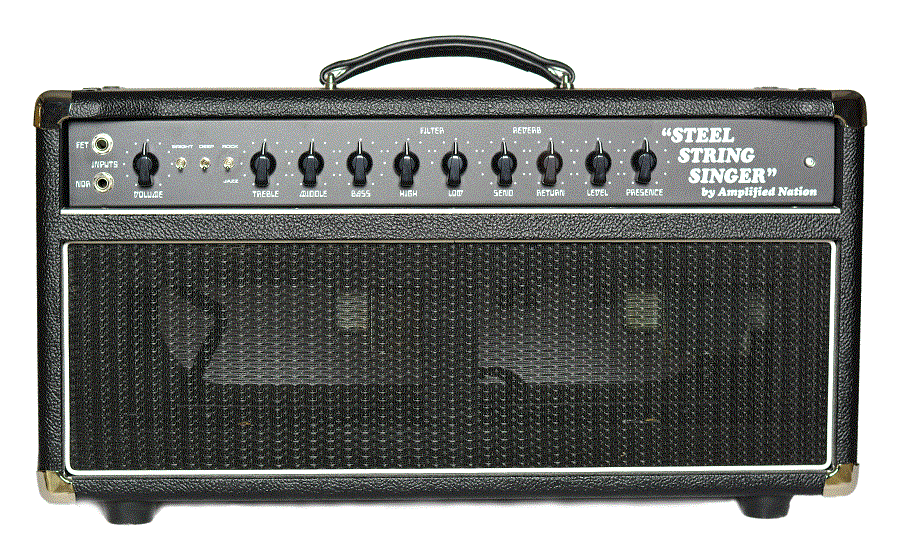 Early in his career, John mainly used Fender amps. A couple of photos have turned up, one showing him carrying a Fender Princeton Reverb combo, another blurry photo of his stage rig shows what looks to be a Deluxe Reverb with a 4×12 cabinet.
In any event, the sound that we have come to associate with the John Mayer we are most familiar with comes from a combination of three amplifiers, one of which is the Dumble Steel String Singer built by boutique amplifier builder Howard Dumble. This amp has achieved near legendary status amongst guitar players, with some being sold for over $100,000. This amp was favored by Carlos Santana, and not surprisingly, Stevie Ray Vaughan.
One peculiar feature of the Steel String Singer that may have made it a particularly good match for the Big Dipper pickups is that despite it being known for having a particularly clean sound, it does have a tendency to break up when pushed by a high-output audio signal. It makes sense then, that a lower output pickup such as the Big Dipper could be driven harder without the amp breaking up, making it an excellent match for Stevie Ray Vaughan and John Mayer.
His settings (courtesy of Premier Guitar's Rig Rundown) show that he keeps the amp settings consistent, using pedals to switch from clean/lead sound to dirty sound.
His master volume is kept in about the 8 o'clock position
The treble and mids are in about the 9:30 position
The bass is cranked all the way up
The high filter is at the 11 o'clock and the low is at 12
The reverb send is set at 10 o'clock and the return down around 8
The level is set at just about 10 o'clock
Two-Rock John Mayer Signature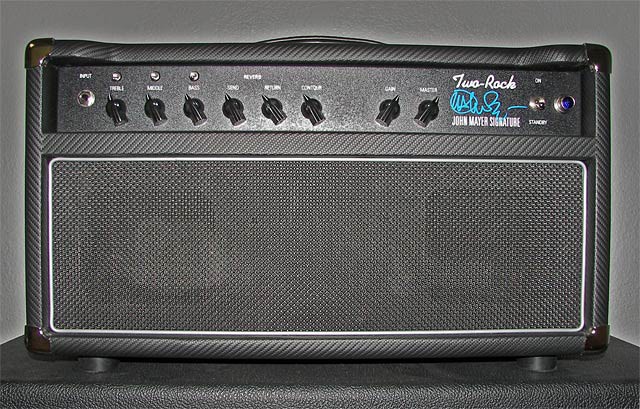 The choice of the Two-Rock Custom Reverb for what would become his signature model amp was the logical choice considering its similarity to the Dumble. The two sound virtually identical.
The Two-Rock does have a couple of advantages over the Steel String Singer in that it has less of a tendency to break up at higher volumes, which is why it is used more for his dirty sound, and it has a contour control that functions like an equalizer, enhancing bass tones when turned all the way down and enhancing the mids then the treble as it's turned clockwise. It's helpful in dialing in the perfect tone.
Again, the amp settings remain constant during the performance, any changes being made at the pedalboard. His settings are as follows:
Mids and bass at 10 and 11 o'clock respectively
Send and receive for the reverb loop are both set at about 2:30
The contour at 12 o'clock
Both the gain and master volume are shown set at the 2 o'clock position.
Fender Bandmaster

The third of the trio of amps John was playing until recently was the Fender Bandmaster. The Bandmaster is used more in the mix for a clean sound. All amps can be controlled by John through his pedalboard.
This includes presets for single amps or a combination of the amps depending on the song being played. This clip below shows a Bandmaster being put through its paces with both a Fender Stratocaster and Paul Reed Smith. It is an excellent example of why it is ideal for blues.
He uses the vibrato channel with the settings as follows (since the knobs are numbered, those are used as reference instead of clock face positions):
Treble – 7
Bass – 5
Speed – 1
Paul Reed Smith J-Mod 100 (Details)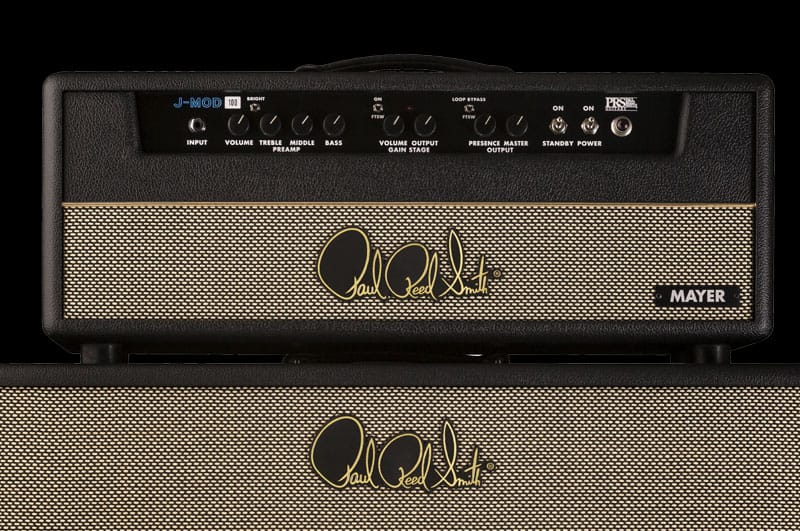 John's new signature amp is the Paul Reed Smith J-Mod 100. This amp is custom built to his specifications and features a single channel input with a very simplified control setup.
The volume, treble, middle and bass knobs are divided into their own preamp section. There is also a gain stage with gain volume and output knobs. Finally, it has an output stage with master volume and presence controls. According to Mayer, the concept behind the amp was to include all the things he liked about the other amps he was playing in single amp so that he didn't have to keep switching around.
The most noticeable difference between this amp and his previous amps is that the J-Mod has a less brittle sound in the treble region and a more percussive response when the pick strikes the strings. This is best realized in the more extensive jams he is doing now with Dead & Company. For a prime example, see this demo at the 2017 NAMM show.
At this time, it is difficult to locate reliable sources to indicate what settings he is currently using, but based on his previous settings it is likely that he keeps his volume and gain settings fairly low with more emphasis on the treble and bass frequencies. He has stated that he did not want to include an onboard reverb since he prefers an external reverb for its versatility.
3. Pedalboard: Effects & Setup
As you would expect, John Mayer uses an extensive array of effects pedals. Here we will look at the pedals and effects he currently uses, and, are most important in creating his signature sound (for brevity's sake, we'll leave out things like tuners and power supplies which have no impact of sound quality).
Currently, most of his pedals are all kept offstage and in the on position with everything being controlled by a Custom Audio Electronics RS-T midi foot controller onstage to turn them on and off. The figure below shows the basic signal path from the guitar through the rack and footswitch out to the amp.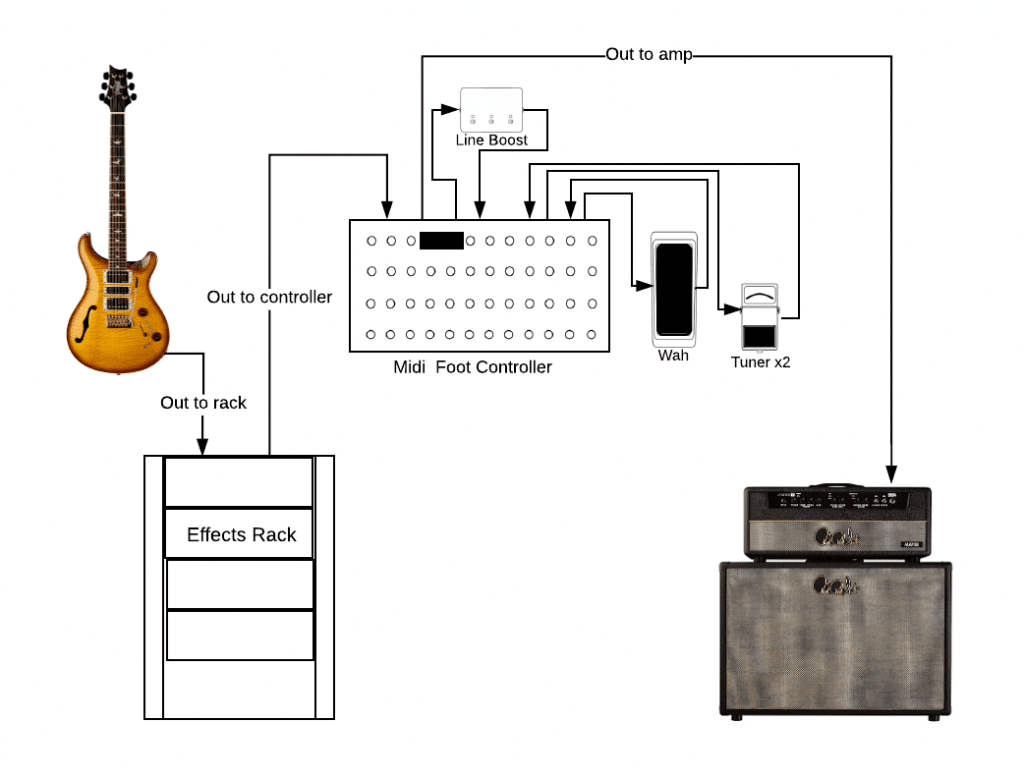 The effects are listed in their proper order in the signal chain (e.g., the Klon goes to the POG2 which goes to the Q-Tron, etc.). John's current pedalboard & controller unit can be seen below.
The effects boxes on the shelves to the left and right of the controller unit are kept in a rack backstage and are kept on at all times and can be independently brought into or removed from the signal chain using a button on the foot controller.
He also has pre-programmed effects loops that can be selected from the foot controller for a specific song or group of songs.
Klon Centaur (Details)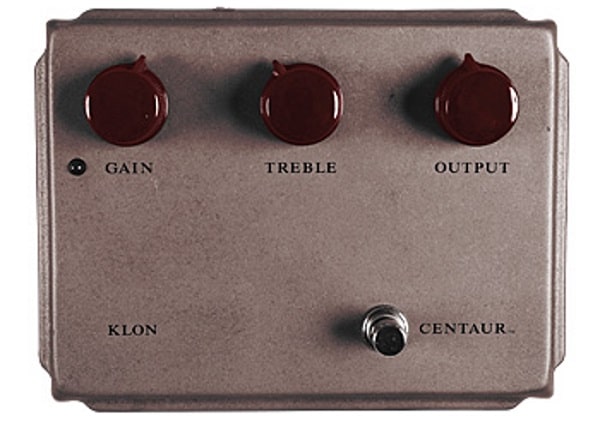 Pretty much the gold standard in overdrive pedals. Original examples of this boutique pedal, which are no longer manufactured, are highly prized and can fetch upward of $2000 on the collectors market.
Shins Music Dumbloid Twin (Details)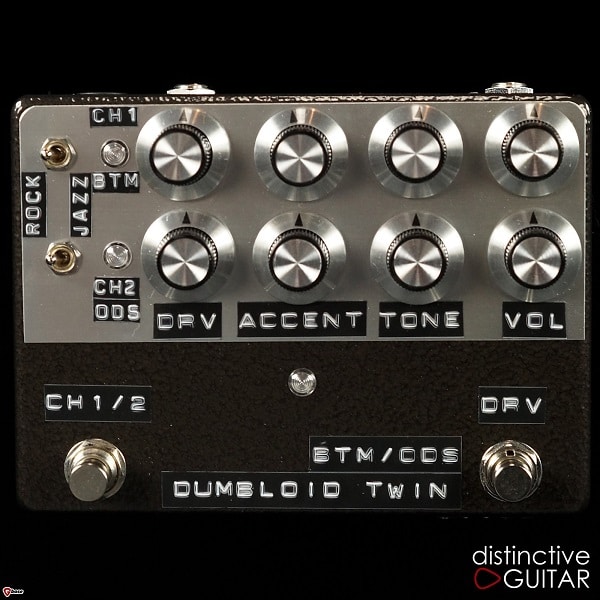 A dual channel overdrive pedal allows the user to get fatter, warmer overdrive than single channel overdrives.
Electro-Harmonix Pog2 
The POG2 is an octave generator which produces a note either 1 and/or 2 octaves above or below the original played note. Creates lush textured sounds characteristic or much of John Mayer's more recent work.
Electro-Harmonix Q-Tron+
The Q-Tron is an envelope follower. The effect is similar to what you would expect to hear if you were to play a guitar through a wah pedal and listen to it through a hollow tube. The swooshing of the wah is quite apparent, but the sound could be described as "hollow" without any real definition.
Not used in his rig as a solo artist, it gets considerable use with his recent collaborations with ex-members of the Grateful Dead in the Dead & Company project. This effect is on full display in the song Shakedown Street.
Cornish Ng-2 (Details)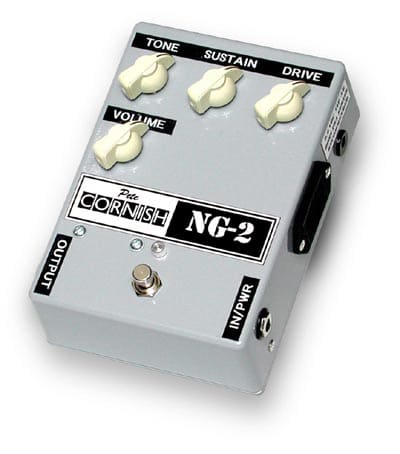 The NG-2 is a boutique fuzzbox, notable for the fact that the tone is very clean (as fuzzboxes go anyway) without any unwanted noise or digital artifacts.
This is an interesting feature considering that the creator Pete Cornish describes the effect as being, "specifically designed to simulate 'Imminent Amp Death' this custom built unit features several separate stages so that the user may tune it to his or her own degree of 'I.A.D.'.
The Sustain control adjusts the signal level into the third section and can be adjusted from 'Tired Output Tubes' to 'Melted Tubes and Shorted Output Transformer'.
Analog Man Compressor (Details)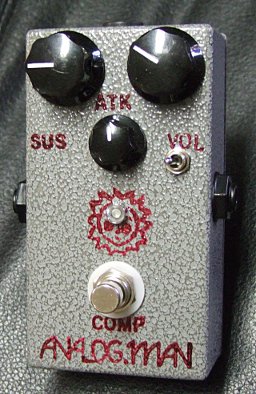 Boutique effect pedal produced to Ross specs with hand tested, selected transistors and NOS CA3080E chip. Excellent low-end response that suits John's mellow tone.
Ibanez TS808 Overdrive Pedal 
No Stevie Ray Vaughan fan would be without an Ibanez Tube Screamer and John Mayer is no different. The Tube Screamer provides the punch behind his onstage rig.
BOSS OC-3 Electronic Keyboard Pedal
Similar in function to the E-H POG2 described above the OC-3 has an additional drive function to add overdrive/distortion to the signal.
Keeley Katana Pre Amp Guitar Effect Pedal
The Katana is a clean boost which adds power to the signal without causing it to become distorted. At higher volumes it produces a warm overdrive with just a hint of "grit".
Roger Linn Design AdrenaLinn III Guitar Effects Processor
This multi-effects processors focuses heavily on the modulation and enveloping type effects, flangers, phasers, octavers, etc. This is also where John sets his reverb – probably the most obvious effect he uses as it's found on almost every song in his repertoire.
Source Audio SA170 Programmable EQ
7-band programmable equalizer with four presets.
Strymon Mobius Modulator
Modulator with several modulation effects available including, phaser, flanger, chorus, tremolo and swell. It also offers the ability to store 200 nameable settings and recall them with a press of a switch.
Strymon Timeline Delay
The Timeline is a digital with delay with 12 different types of delay from Dual to Reverse to Swell, and more. Like the Mobius described above, the Timeline can store up to 200 nameable presets.
TC Electronic DITTO X2 Looper
This looper allows John to play a passage and loop it back repeatedly to play over that passage as a rhythm track. This is especially important when he plays live solo shows where he needs a backing track, but can also be used in ensemble performances where multiple guitar tracks are required. It has a 5 minute record time, so entire songs can be stored and played back.
Dunlop EP103 Echoplex Delay Guitar Effects Pedal
Some might say this is the "classic" echo delay pedal. It has warm tape echo delay and a tap tempo function. This effect is perhaps most obvious in the opening riff of Slow Dancing in a Burning Room from the Live in LA performance.
MXR M101 Phase 90 Guitar Effects Pedal
Just as the Dunlop Echoplex is the "classic" echo pedal, so too is the Phase 90 the classic phaser pedal. Just about every famous (and not-so-famous) guitarist has used a Phase 90 in their effects chain at some point or another. John uses this pedal in conjunction with his other modulation multi-effects processors to produce some interesting effects.
Dawner Prince Boonar (Details)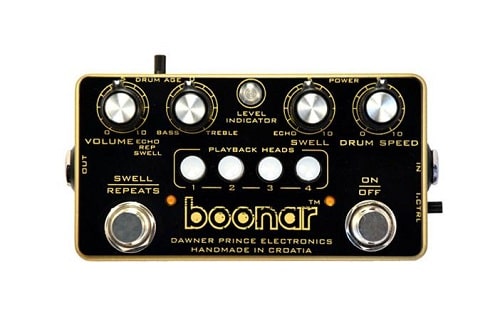 Any guitarist who is a fan of John Mayer probably knows he is big on experimenting with different echo effects. The Booner is a truly unique type of echo called a multi-head drum echo. It is a digital box that faithfully replicates a Binson Echorec magnetic drum echo unit. You can hear this effect in this 2013 performance of Blind Faith's Can't Find My Way Home.
Way Huge WHE701 Aqua-Puss Analog Delay
Way Huge pedals are some of the most sought after pedals on the market. The Aqua-Puss is an analog delay pedal and has a very distinctive sound. This pedal can be heard quite distinctly on the opening bars of Slow Dancing in a Burning Room.
Neunaber Slate Stereo (Details)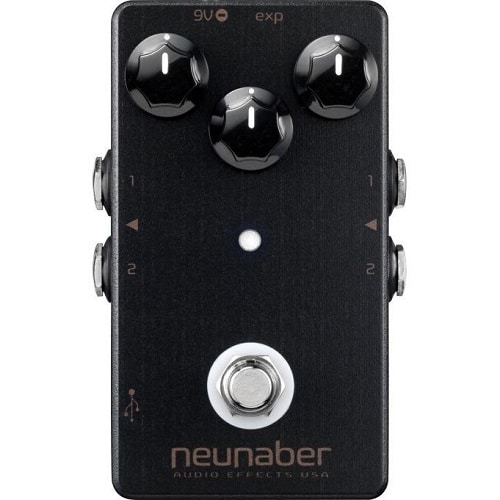 This is quite possibly the coolest effects pedal ever invented, It is literally three pedals in one.
Using Neunaber's Pedal Customizer software the user can choose from Wet Stereo Reverb, Chroma Stereo Chorus or Echelon Stereo Echo, and then transform the functionality of any Stereo Pedal into any other Stereo Pedal, simply by changing its firmware via a Cat.
5 input located in the rear of the unit. The functions of the three knobs change based on what effect is being used. The Slate part comes from the fact that the user can write on the top of the unit with a dry erase marker to indicate what the knobs are for.
Change the effect and the user can simply erase the labels and write new ones. This way John can choose from show to show what he wants to use the effect for at that show.
MXR MC404 CAE Dual Inductor Wah Wah 
This pedal is the result of a collaboration between Dunlop and Custom Audio Electronics. This pedal allows John to switch between a darker, more modern wah and a vintage wah voicing. This effect can be heard on this cover of Jimi Hendrix's Voodoo Chile.
4. Strings And Picks
John does not always play with picks, preferring instead to play fingerstyle. When asked why he no longer plays with picks, he told Guitar World magazine in 2010, "I can be in more places at once on the strings and over the pickups. It's the closest I've managed to come to creating my own sound. I'm really interested in creating a place to stand as a guitar player. I'm not where I want to be yet, but I'm starting to get my chops back.
John is also not particular about the type or gauge of string he uses. In the same Guitar World article, he says, "I'll tell you, the argument about string gauges is about the silliest thing a guitarist can engage in. Maybe you get a better tone off of bigger strings, but if you can't bend up to the note, what's tone anyway? But like Hendrix probably had .010s, so it's whatever you can bend."
Wrapping Up
Hopefully this article has give you some insight into the components of John Mayer's unique sound and that you have found some value in it. If you enjoyed the article or have any additional comments, please leave them below, and as always, keep rocking.