As a young guitar player coming up in the 1980s, chorus pedals were one of the effect pedals that helped define my generation. I got my first Boss CE-1 mono chorus pedal around 1981 and loved that it gave my guitar the shimmer I dug from my Police records.
After a while, chorus sounds were everywhere on clean and distorted guitar, bass, or anything else that could be piped into one. Thankfully, chorus pedal dependency has let up to a degree but a cool-sounding chorus pedal is still standard equipment these days in any versatile pedalboard situations.
How Do I Use A Chorus Pedal?
Chorus effects normally work best on the Clean channel of your amp, although some players do use them with distorted sounds, and are a great way to add some swirl and movement, called Modulation, to your guitar sound. Most units are capable of going from a barely-perceptible sweep on lower settings to full-on freak-out effects as well as a Leslie/Uni-Vibe sort of sound when cranked up high.
You can run them into your amp through the front end or the effects loop and most current chorus pedals are stereo and work very well as a splitter to send your signal to two amps at once for gigantic tone.
Here is a video to help you understand what all of this means in terms of sound:
Which Chorus Should I Buy?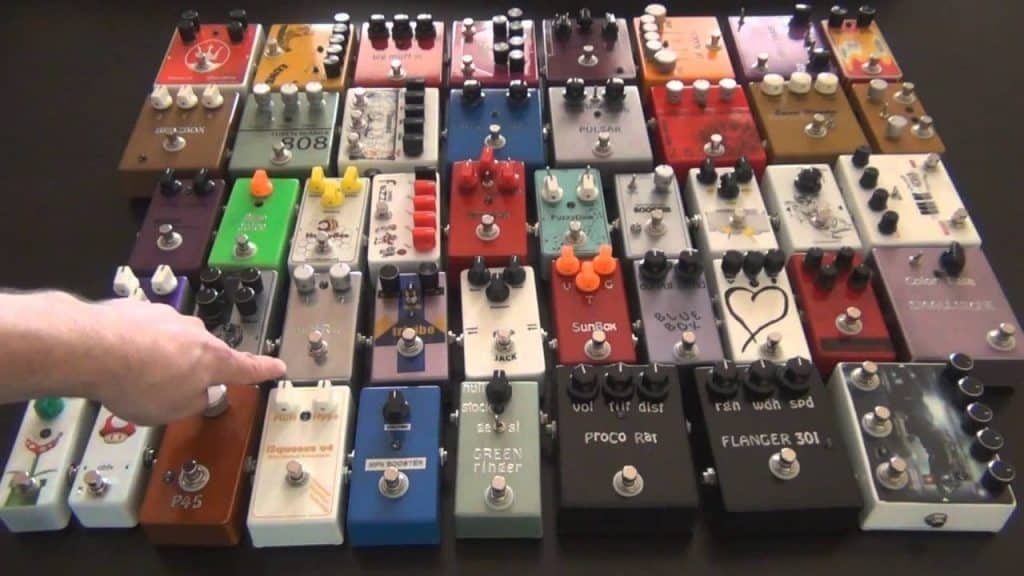 There are many outstanding chorus pedals available on the market today and shopping for one can be confusing.
Which one is the best for your style of playing?
Simple Answer: The one that makes you the happiest when you switch it on.
Different units have their own characteristics but will do the normal chorus stuff no problem. It really comes down to flavor and you must read reviews, watch demos, and play the pedals in person to really get a feel for what each one does.
There are a number of things to think about when shopping for a chorus pedal to add to your rig. The modern musical instrument market is flooded with choices of every instrument, amp, processor, and accessory possible, so it helps to know what you're after before you head out and start throwing money around. I will go through a few of them with you and see if I can offer some guidance and food for thought. Here we go, in no particular order!
1. Analog Or Digital?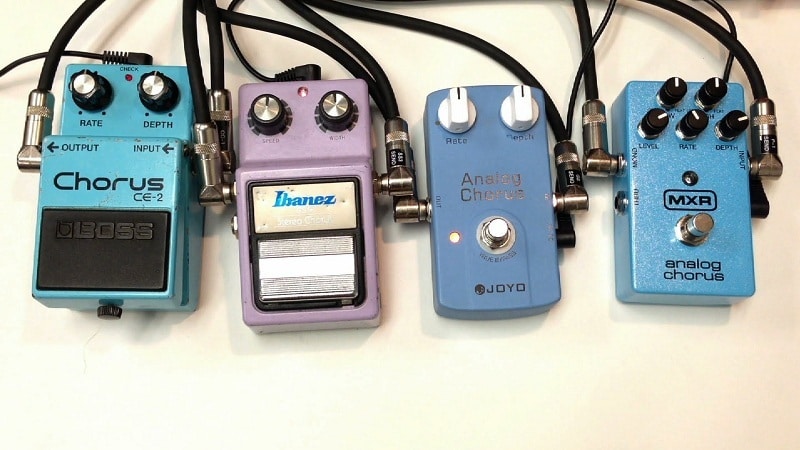 The analog VS digital debate is one of the first points that come up in any discussion of chorus pedals. Which one is better? Neither. They are just different from each other, just like analog and digital delays are. An analog chorus will have a slightly softer and warmer tone and a digital one will be cleaner and crisper.
Digital chorus pedals, especially good ones, are harder to find in current times because the market has shown an overwhelming preference for analog units. "Digital" today usually means "modeling" and there are various amp modelers and software pieces that will do a fine job within the confines of your studio computer. If you want digital chorusing on your pedalboard without resorting to a gigantic multi-effect floor system, your options are few.
Both are valid flavors and you can probably justify having one of each kind. Be prepared to accept a multi-effect of some kind if you just have to roll digitally. Does it really matter? Only if you think it does.
2. Price
I don't want to dampen anybody's spirits or anything but it's a good idea to have some kind of budget in mind before you start shopping and to try to stick to it. The worst thing possible to fall head-over-heels in love with a piece of gear that you have absolutely no chance of being able to afford. We've all been there and it's never fun. I actually experience physical pain when I want something I can't have. Learn from my obsession; shop for what you can actually buy. Also, compare pedals to other pedals that cost about the same amount. Apples to apples and all of that stuff.
3. Mono Or Stereo?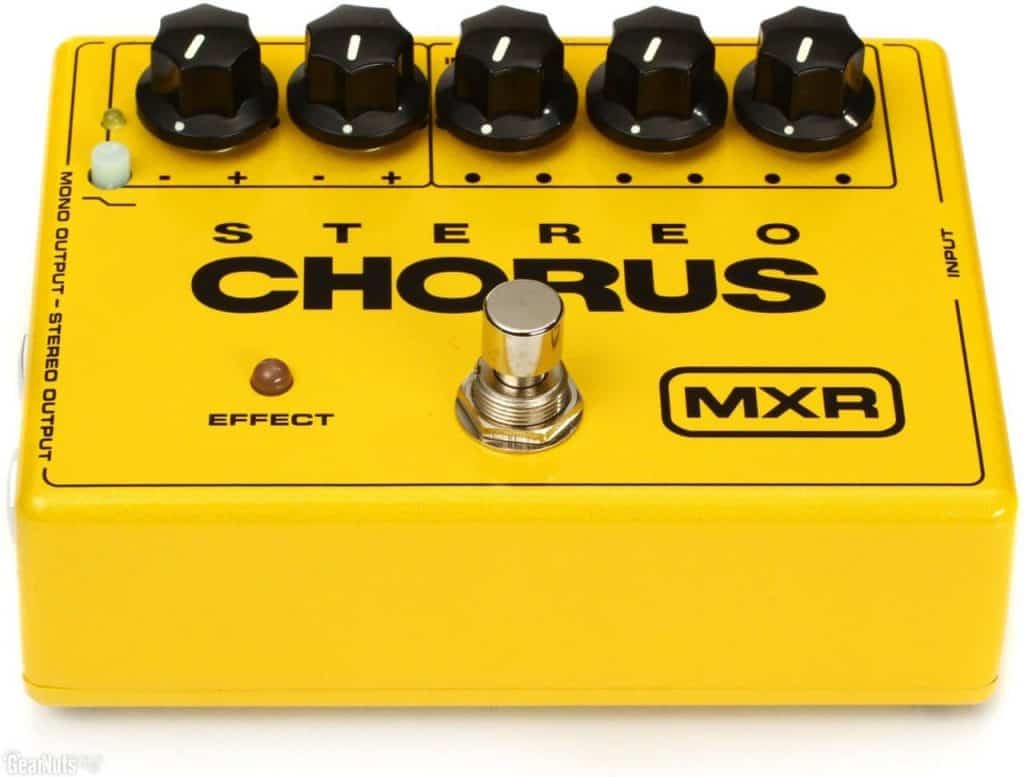 This point actually makes a pretty big difference, depending on how you will use the pedal. Really, what you have to think about is the rest of your rig.
If you're the rock and roll cave dweller kind running a vintage or boutique head with no effects loop in mono the whole way, a simple mono chorus pedal like the Small Clone will be just fine, as you will be front-ending it into your amp in true Classic Rock fashion.
If you are more of a forward-thinker, however, and plan to run two amps in stereo and get more into the sonic engineering aspects of effects, you will probably want a chorus with Stereo Outs that can act as your splitter. Stereo also gives you more possibilities when it comes to using the full Stereo Field and it can be loads of fun to have effects that pan back and forth or do other tricks that simply can't be done within a mono setup.
4. Factory Or Boutique?
This point is pretty important, too, especially if you tour a lot. If one or more of your songs are completely dependent on one particular chorus sound that only comes from the small-batch boutique pedal company in Idaho that you buy handmade pedals from at outrageous prices, be prepared to scramble when that pedal breaks down on the road. Many musical road warriors have learned the virtues of hitting the highway or airstrip with relatively common gear that can be replaced in any city they are playing in if the need arises.
I know guitar sound is a highly personal issue and you like what you like but working players must also address the practical demands of the rock and roll lifestyle. Theft and chaos happen. Be prepared. If you can't live without your boutique pedal, you had better buy two of them so you have a backup.
The Superb List Of Chorus Pedal
1. EHX Small Clone
One of the all-time great analog chorus pedals in guitar history is the Electro-Harmonix Small Clone Chorus Pedal. Electro-Harmonix has been making pedals since the Hendrix days and the Small Clone is a throwback to those simpler times when everything was mono and went into the front of your amp.
It is a simple as simple can be, sporting only one actual knob for Rate, and delivers sweet and gentle modulation as well as more intense swirling sounds so easily you'll wonder why you ever tried anything else.
It imparts the shimmer of a 12-string guitar to your sound quite well and has remained popular for a long time.
The great thing about the Small Clone is that it sounds killer but carries a low price. Getting one is the cheapest way to get some true analog heritage into your tone.
Pros
Vintage analog chorus goodness from a company that was there!
Super simple one-knob operation!
Mono, if you like mono.
Cons
Mono, if you don't like mono.
2. MXR Black Label Chorus
The MXR ZW38 Black Label Chorus Effects Pedal is the Zakk Wylde signature model and proudly sports his famous "bullseye" graphics. It is a compact pedal and will fit easily on any board. Also, note the ZW38 is analog but does include stereo Outs along with its vintage-style buffered bypass bucket brigade circuitry.
You get knobs for Level, Rate, and Depth plus a single footswitch and two additional knobs that control a High-Cut Filter and a Low-Cut Filter. These filters are included to make this pedal better for use with distortion sounds, as a chorus without them can make your dirt sound terrible.
The ZW38 is a good pick for the most metal among you and works well with heavy distortion. On cleaner settings, it turns your sound into crystal-clear water, just like a great chorus should. Be sure to check one out. They are moderately-priced and deliver exactly what some players are looking for.
Pros
MXR always makes great gear!
Analog circuit with stereo Outs!
Dedicated High-Cut and Low-Cut Filters.
Cons
Zakk Wylde signature graphics. Love them or leave them!
3. Donner Tutti Love
The Donner Tutti Love Chorus Guitar Effect Pedal is a new kid on the pedal block and offers a lot to those looking for lush analog chorus sounds in a subcompact size package.
This kind of mini pedal has become popular with guitarists who want to squeeze every effect possible onto the limited pedalboard space they possess. The Donner also has a bit more overall darkness to its sound compared to some other pedals and might be better for use with brighter-sounding guitars.
One feature that puts the Donner above its price-point competition is its aluminum alloy body. Most pedals in its price range are housed in plastic bodies that dramatically shorten the life of the pedal. No worries about that here. You can stomp away with confidence knowing you won't break this one. That counts for a lot on the gig.
Pros
Super small size fits on the most crowded pedalboards!
Incredibly low price!
Strong aluminum alloy box!
Beautiful analog chorusing that is crisp and clean.
True Bypass.
Cons
Could be too small for some with big fingers.
Can't be run on a battery due to size limitations.
4. Tc Electronic Corona
One of the best stand-alone digital chorus pedals is the TC Electronic Corona Chorus. TC helped to write the book on chorus effects over the years and the firm's original chorus pedals are the stuff of myth and legend.
TC effects have always been premium products and carried a high price tag. Now, with the Corona Chorus, you can get all the wonderful TC chorus sounds you want at a much lower cost.
Even better is the fact that the Corona features TC Electronic's TonePrint technology, which allows you to download a completely new chorus style into a memory slot via USB directly from TC. There are a ton of sounds available, some developed by famous players, that you may pick from to add to your pedal.
The Corona delivers SCF- and TriChorus-style effects that will knock you out, even without a TonePrint addition. There are knobs for Speed, Depth, Color, and Level to dial in any sound you can conceive.
The Corona easily goes from mellow chorusing to more radical effects and covers a lot of sonic ground, especially for such a compact unit. It also comes with stereo Ins and Outs to patch into any rig quickly and has True Bypass switching. The Corona is a wonderful pedal full of TC Electronic greatness, so click here to check one out for yourself.
Pros
To many players, TC Electronic is the King of Chorusing!
Versatile TonePrint technology.
Big sounds in a small box.
5. Behringer Digital Multi-FX FX600
Players seeking similar tones on a tighter budget can check out it. This little guy will deliver to you 24-bit high-resolution stereo effects like Flanger, Chorus, Phaser, Delay, Tremolo, and Pitch Shifting in a small-sized box for an even smaller price. It is a one-box studio effect rack for the garage rock crowd and delivers outstanding performance in its price range.
Again, it's not strictly a chorus pedal, but a multi-effect like this is the easiest place to find that digital chorusing sound anymore. Do a little shopping right here! The FX-600 is pretty typical for its price point. It's made of plastic, only does a single effect at a time, and causes some concerns about how long it will live under hard use.
You have to think for yourself on this one, as those are all valid point but there are a lot of Behringer pedals being used on gigs as this sentence is being written. Somebody is getting some sounds out of them.
Pros
Major bang for the digital buck!
Multiple effects available.
24-bit high-resolution stereo effects
Cons
Plastic body.
Only one effect at a time.
Final Verdict
We looked over and discussed a lot of pedals here today. If you've read this far, you probably want to know which one we think is the champ. To us, the MXR ZW38 Black Label is the winner of this shootout. Its combination of analog circuitry, modern stereo capability, and suitability for use with distortion as well as clean tones put it over the top. If you love chorus and can only have one, the ZW38 is the pedal for you. Your tastes may be different, so let us know in the Comments which chorus pedal is on your pedalboard and if you liked this article. Thanks for reading!