Of all the guitar effects pedals out there, none may be more useful to the guitarist-songwriter than the looper. There are several good choices out there, but what is the best looper pedal on the market?
Loop Length
Loop Mode
Special
TC Electronic Ditto Looper

5 minutes recording time
Overdubs
Undo
Redo
Unlimited Recording Overdubs
Boss RC-1 Loop Station

12 minutes recording time
Overdubs
Stop
Clear
LED Indicator lights show the current status of the Loop
NUX Loop Core

6 hours recording time
Overdub
Stop
Unlimited Overdub
Tap Tempo
Drum Machine
Save the Loop
Digitech JamMan Solo

35 minutes of recording
16 hours with micro SCHD card
Overdub
Stop
Undo
Tap tempo
Jamsync to sync two JamMan units
Save the Loop
Donner Tiny Looper

10 minutes of recording
Overdubs
1/2 Speed Playback
Reversed Playback
Unlimited Overdubs
Why Should You Use A Looper Pedal
Loopers are one of the less common effects pedals and less commonly used in live performance settings (although solo performers like Ed Sheeran and K.T. Tunstall use it to great effect live).
The purpose of a looper is to record short guitar passages and play them back in a repeating loop leaving the guitarist free to play a different melody or solo on top of the loop. It's easy to see where this would be useful in either a live or practice session, particularly if there is no other guitarist available to cover the rhythm section.
Your Signal Chain
There is pretty much universal consensus that the looper pedal should go at the end of the effects chain; although, as with so many effects, you could place it anywhere in the chain depending upon how experimental you want to get. Some people have suggested putting it somewhere in the middle to build up loops that are then fed into the remaining effects. It's really up to the user. The diagram below shows the most logical effects chain to use with a looper.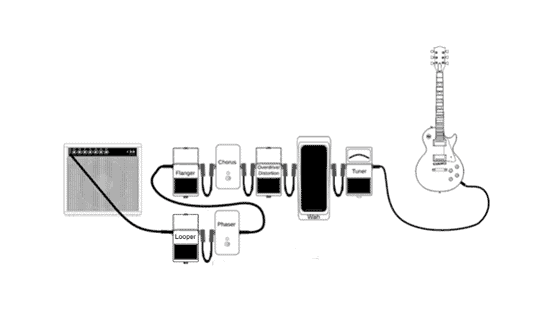 Warning
You need to be aware that the other effects down the line can have an unpredictable impact on your tone or other features like tap tempo or the drum machine.
Choosing The Right Pedal
1. Simplicity Vs Complexity

The constant argument when it comes to any type of effects pedal is whether to go for the more simple device with just a few dials and switches or to try to get as many features as possible packed in, which usually leads to a higher cost and more points of failure if something does go wrong. Of course, the payoff is that you might not have to buy two or three pedals when just one can do the job adequately.
Some pedals such as the BOSS RC-300 Loop Station has so many features, it could almost be referred to as a multi-effects processor. On the other hand, it doesn't get much simpler than the ​TC Electronic Ditto Looper, with a single knob and footswitch – and at less than one-fifth the price of the RC-300.
2. Loop Length
There is very, very wide range of options to choose from in terms of loop length, anything from 5 minutes to 16 hours. We'll cover that in a bit more detail in the Storage section below, but for most purposes 5 minutes is plenty enough time to cover a single song (unless you're Rush or Led Zeppelin). If you need multiple loops for a song – or multiple songs – you will need to choose a pedal that will allow you to store more than one loop.
3. Storage
Storage is a big issue when choosing a looper. A cheap and simple looper will usually allow you to store only a few minutes of music at a time, which is fine for occasional use on a single song. If you are an artist who relies heavily on a looper or need one for more than one song, you will need a looper that can store multiple tracks and has a good deal of additional storage.
The Digitech JamMan, for example, can store up to 198 different tracks and over 16 hours of music if you supply the optional SDHC card. Of course, it is also one of the more expensive pedals available.
4. Additional Features
Many of the loopers today have both a forward and reverse mode that allow you to play your recorded loop either forward or backward. Jimi Hendrix made extensive use of this reverse loop effect on his seminal tune Castles Made of Sand, although admittedly, in that case, the effect was created in the studio.
Tap tempo is a popular feature included in some loopers. Tap tempo forces the looper repeats to keep tempo with the music.
A drum machine feature is another convenient feature included with some loopers. This is very nice for the guitarist who doesn't have a drummer to practice or perform with. The drum machine allows you to include a drum track in your loop; and while it will never match the feel and complexity of real drums, it does a very serviceable job.
5. Price Range
The price range on looper pedals is huge based on a number of factors including features, loop time and storage. You could easily pay over $500 for a looper loaded with features, but it's possible to find a perfectly good one for around $40. For the purposes of this article, I have chosen to include only those models in the $40 – $200 range, and exclude multi-pedal models and standalone signal processing devices that are better suited to use in the studio.
The Superb List
1. Tc Electronic Ditto Looper
It really doesn't get much simpler than the t.c. electronic Ditto looper. A single knob controls the unit. The Ditto may be a "one-trick-pony", but it does its one trick exceptionally well.
Its 5 minute loop time is plenty enough for nearly any song, but what really sets it apart is its unlimited capacity for recording overdubs. You can record as many layers on top of each other as you want without losing any dynamic quality.
You can record multiple guitar tracks, bass, even keyboards onto the Ditto looper for live performance or practice and the sound is every bit as clear and distinct as when it was laid down.
This humorous, but informative, video clip from ex-Mr. Big guitarist Paul Gilbert show how he uses the Ditto looper to practice when he doesn't have another guitar accompanist.
Pros
No frills ease of use
Small size, good for a crowded pedal board
Accurate sound reproduction without digital artifacts
Unlimited overdubs without muddying the sound
Cons
No additional functionality (it is only a looper)
Must be externally powered, no 9v battery option
2. Boss RC-1 Loop Station
The RC-1 Loop Station is another simple, yet powerful, addition to the looper pedal market. There are a lot of things to love about the Loop Station. It offers both mono and stereo input/output, and a full 12 minutes of recording time. A circle of LED indicator lights on the top panel allows you to quickly and easily determine the current status of the record, overdub and play modes. The RC-1 can be powered either by a standard 9v battery or 9v DC adaptor (not included).
Another nice feature, especially when you are new to the pedal is that the instructions for stopping and clearing the pedal are printed on the front panel so you never have to wonder if you are operating it correctly. The pedal also retains the last phrase you recorded in its memory, even when the unit is turned off.
A great demo of the RC-1 Loop Station's capabilities in action can be found in video below. You can also see the tutorial below on using the pedal.
Pros
Single knob, easy to operate
Mono/stereo inputs/outputs
Mode indicator lights
Can be used for guitar, bass, keyboards or even vocals
Cons
Not intuitive
Some new users (who haven't read instructions) have been led to believe it's broken
3. Nux Loop Core
You would be hard pressed to come up with a more feature packed pedal this size, but Nux manages to pull it off with the Loop Core. In addition to its core features like 6 hours of recording time, mono or stereo recording and 99 memories, it also has a few other nice extras. It has tap tempo to keep the effect on tempo and a drum machine offering 40 built-in patterns.
Another great feature of the Loop Core is the built-in USB port for uploading patterns that you have recorded to the PC. This is nice for songwriters who are always looking for options to save their creations in a convenient way. Like most of the loopers featured here, it will also work with other instruments like bass and keyboards.
Pros
Up to 99 saved loops
6 hours of recording time
Mono/stereo inputs/outputs
Tap tempo
Built-in drum machine with 40 built in patterns
USB port for uploading recorded phrases to your PC
Battery or DC adaptor power
Cons
Recorded loops have a tendency to degrade over time
Some users have reported that it is noisy
4. Digitech Jamman Solo XT
The Digitech JamMan has so many cool features it's hard to decide where to start. The looper functionality is capable of recording and storing over 35 minutes of high definition loops in 200 internal memories. With the addition of a micro SDHC card, that capacity can be extended by over 16 hours with 200 additional memories, a truly staggering amount.
The Jamman allows you to slow down or speed up recorded loops without changing the pitch. You can also sync multiple JamMan pedals together to create a multi-track looper or loop with other musicians. A USB connection allows you to upload recorded loops to your PC or download audio files or pre-recorded loops from the JamManager XT Loop Library app available for PC or Mac.
The JamMan also features tap tempo functionality. The JamMan does require and external power adapter, but unlike most of its competitors, it does come included with the pedal.
Pros
Up to 400 saved loops (200 stored internally with additional 200 on SDHC card)
35 minutes of recoding time with an additional 16 ½ hours of recording time with SDHC card
Mono/stereo input/output
Tap tempo
JamSync to synch two JamMan units
USB port for downloading audio or uploading phrases which can then be managed using the JamManager XT Loop Library
Cons
No option for battery power, requires 9 volt dc adaptor (included)
5. Donner Tiny Looper
For the more budget conscious consumer, it would be hard to beat the Donner Tiny Looper. Don't let the small size deceive you, the Tiny Looper has plenty of functionality packed into that small space. This device has 10 minutes of looping time and unlimited overdubs, comparable to some of the more expensive loopers.
The Tiny Looper also allows you to play back your loops at normal speed, half-speed or in reverse. A USB port allows the user to upload or download loops to and from a PC. This video provides a good demonstration of the Tiny Looper's capabilities.
Pros
Simple three-way switch and single knob design
Tiny size 75x36x40mm fits better on crowded pedal board
USB port for upload/download
Half-speed and reverse feature
Cons
No option for battery power, requires 9 volt dc adaptor (not included)
The Final Verdict
The Digitech JamMan comes out as the clear winner in terms of loop time and storage. It is one of the more expensive pedals on the list, but the JamManager interface and other additional features make it well worth the price.
Also, take it from me, you should never discount the value of an included power supply adaptor. I've spent countless hours digging through drawers trying to find a DC adaptor to fit a pedal of mine when the battery unexpectedly runs out. The JamMan does not have optional battery power, but that's a small price to pay. I hope you enjoyed this review and rating and would love to hear your input. Feel free to leave your comments, and always remember to keep rocking.