The delay effect is definitely one of the most popular and frequently employed effects in modern music. Short delay can provide a chorusy effect that thickens the sound but doesn't materially change the original flow of piece of music, whereas, longer delay times tend to create a tapestry of sound, weaving one layer on top of another. There are a huge number of delay pedals on the market, but what is the best delay pedal?
In this post, I'm going to guide you step by step how to take out the BEST one that fits with your TASTES and NEEDS.
When Do You Really Need A Delay Pedal?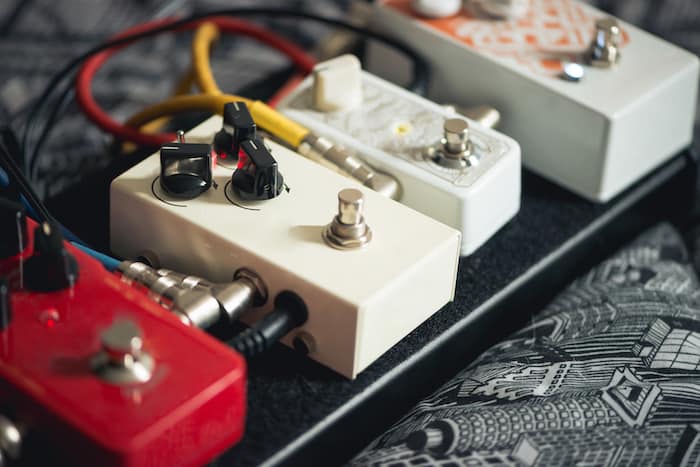 No matter what style of music you play, a delay pedal is like a tuner, almost an essential piece of gear. Tommy Thayer of KISS, who may employ fewer effects than any other major name in the business, has a BOSS DD-3 digital delay in his signal chain, and other than a tuner and wah pedal, that's it.
For a cover band from the guitarist's perspective, it's an almost unavoidable fact that at some point you will need a delay pedal to accurately cover a popular song. Can you imagine trying to cover Pink Floyd, Van Halen or Guns 'N' Roses without a delay pedal? Even if rock is not your thing, most jazz and blues songs simply sound better with a hint of delay to fill out the sound.
If you are new to the guitar, and just getting into looking at adding effects to your setup, a delay pedal is a good place to start. You can also get a good pedal for a very reasonable price. While it's possible to spend well over $100 for an established brand name or boutique pedal, there are also a number of great options in the $30 – $70 range. There are also a wide range of options, from digital delay pedals that include Tap Tempo and Loopers to bare bones analog models that offer clean transparent tones and shorter delay times.
Your Signal Chain
Just as there is debate about whether digital or analog is better, there are equally strong arguments about where the delay pedal fits best in an effects signal chain. In most cases, you will see the delay towards the end, or at the very end of the signal chain. There are good arguments for this, the best being that most people want to have the delay applied to the cumulative signal immediately before it goes into the amp. They also can trigger a jump in the ambient effect level whenever extra gain is engaged, so placing them before a distortion or overdrive pedal, for example, can produce surprising an unpleasant mish-mash of sound.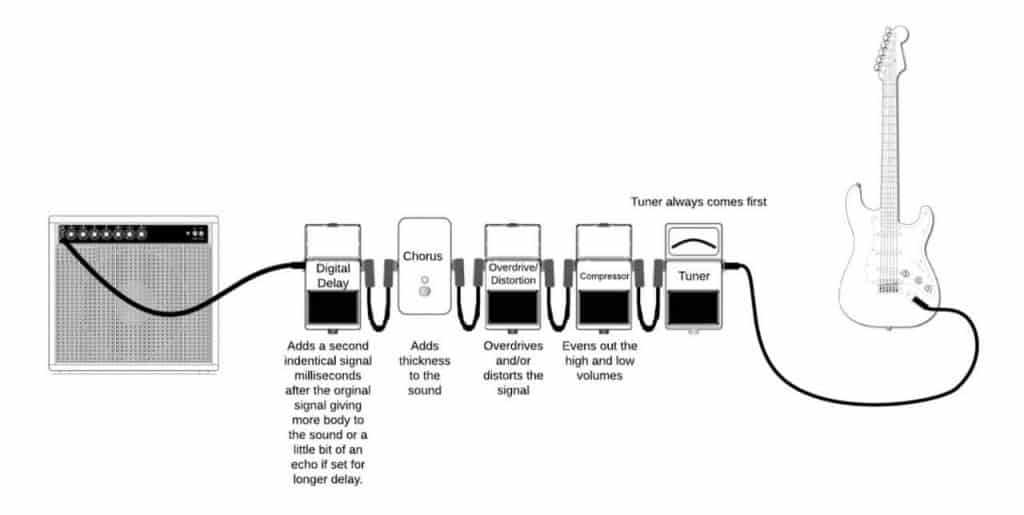 There are, however, some who argue that introducing the delay further up in the chain because both the original signal and delayed signal are introduced separately into the chain, producing some cool effects. Tim Commerford, bassist for Rage Against the Machine and Audioslave, actually likes to put his delay first in the chain. Again, it's all up to the individual as to what sounds best to him or her.
Read more: 4 Pedalboard Orders That Don't SUCK – The 3rd Order is Legend!
How To Choose The Right One?
1. Analog Vs. Digital
There are two different types of delay analog and digital. While there is a great deal of debate about which type is "better", both types are designed to serve the same purpose. The difference is in the technology used to produce the effect.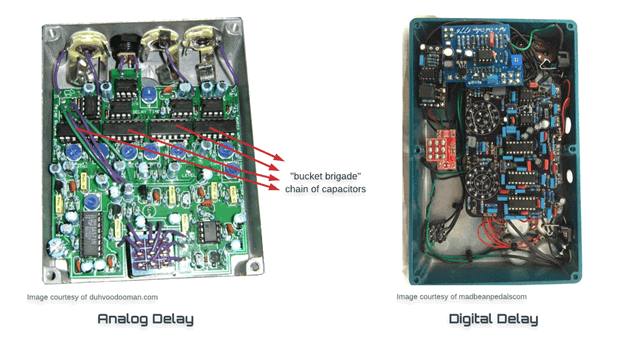 The drawback, if you want to call it that, is that due to the nature of analog processing, an analog delay tends to introduce some distortion into the signal. Depending upon the complexity of the circuit, it's possible to eliminate some, but not all, of this distortion. For some types of music, particularly classic and hard rock, this distortion is actually desirable, and for this reason, those musicians often prefer analog delay pedals.
Manufacturers of digital delay pedals have become mindful of this fact, so much so that some have designed digital circuits to replicate the distortion found in the analog units. Proponents of true analog delay argue that the distortion found in digital delays sounds unpleasant and artificial. In order to remedy this perceived drawback, some manufacturers have designed hybrid circuits that use both BBD chips and digital signal processing.
Whether you should use analog or digital delay is purely a matter of personal preference. No one type is "better" than the other. A lot depends upon what style of music you play and what sounds good to you. For blues, jazz and classic rock players, generally speaking, a player would be looking for a more "organic" sound which means more of a transparent, natural and unprocessed guitar tone. Metal and experimental players often desire the flexibility of a digital delay which may incorporate more of a processed tone, distortion and/or digital "artifacts" into the signal; however, those things may not matter, or may even be desirable, depending upon the situation.
For a more in-depth review of the differences between analog and digital delay, see our article here.
2. Delay Sound
A good delay sound should be clean and not sound distorted or overly processed. This is particularly important with musical styles that require clean lead passages such as jazz. This is more of a problem with digital delays. Additionally, the longer the delay times typically associated with digital delays means that there is more chance there is that artificial sounds will be introduced into the signal.
3. Versatility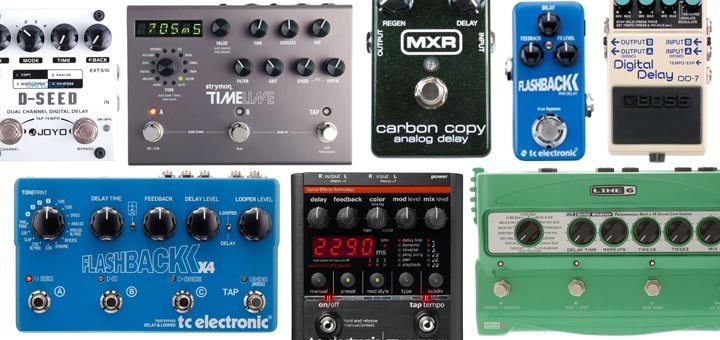 Experimental and metal guitarists are often looking for that edge that set them apart. Having a delay that can do more is a real plus for those players. That's where pedals like the t.c. electronic FlashBack that allow you to actually craft your own tones and send them to pedal are especially nice.
It's also a great advantage having a pedal that can do more than one thing. A pedal like the Valeton Coral Echo that can simulate a tape echo or a delay that has a looper included means that you may be able to eliminate a pedal that serves the same function on your pedalboard, and fewer points of failure is always a good thing. Also having a delay with a tap tempo feature is particularly nice since it forces the delay's repeats to keep tempo with the music.
4. Price Range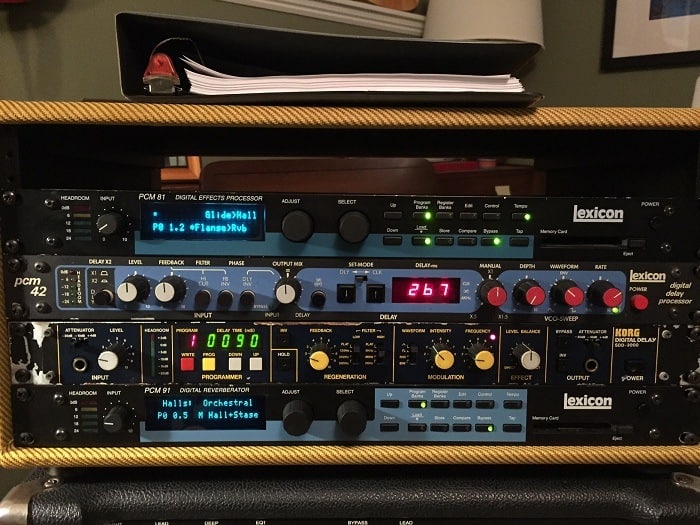 The big manufacturers such as t.c. electronic, Electro-Harmonix and MXR have big marketing budgets so they can afford to charge more for their pedals. That doesn't necessarily mean a more expensive pedal is necessarily better, particularly if you don't need a delay to do a lot of different things.
If basic delay is all you need, there are plenty of good options available for less than $60. As the number of features increase, or if a specific model is known to be associated with a famous artist (such as Eddie Van Halen and the MXR Carbon Copy), the price naturally increases. So it comes down to what the guitarist is looking for, and whether or not the value is there for the money.
5. Durability
For the performing musician, durability is of paramount importance. It's a pretty good bet that any pedal from one of the big manufacturers that have a history of catering to the professional musician is going to be just fine when it comes to being well built and can take the wear and tear of being chucked in a case with a bunch of other effects.
The most vulnerable components in any effect are going to be the input/output and DC power jacks since they are subjected to the constant insertion and removal of cords. Control pots are also of key importance, and cheap pots tend to crackle and breakup over time and with constant use.
The List Of Top-Performing Delay Pedal
1. Tc Electronic Flashback
Nice four knob digital delay with a multitude of delay options, including 11 built-in delay types and up to 7 seconds of delay. Like the other pedals in the TonePrint line, this one features the ability for the user to customize sounds with the TonePrint software and beam the custom tones directly to the pedal. The FlashBack includes a Tap Tempo feature that syncs your delays with the tempo of the drummer/band.
What's really over-the-top is that this pedal also includes a looper with 40 seconds of looping time. A looper, for those unfamiliar with the device, records the signal from your guitar and then plays it over and over again, essentially creating your own backing track for you to play over. This is a very nice feature for songwriting or just practicing alone without a second guitar to play the accompaniment.
Pros
11 built-in delay types.
Maximum delay time of 7 seconds.
Tap tempo feature.
Built-in looper.
Tough and rugged construction.
Low noise.
TonePrint app allows user to customize their own tones or choose from a number of pre-configured tones and beam them directly to the pedal.
Cons
Some users report reliability issues with Tap Tempo feature.
Exceptionally high power consumption; using adaptor (not included) is recommended.
2. Donner Yellow Fall
This is a great little pedal, with the emphasis on little. This is the perfect delay for those with limited room on their pedal board and limited cash in their pocket. This reasonably priced pedal still has plenty of features. It is lightweight, and the straightforward analog design has controls for echo, feedback and time, along with a true bypass switch to send the unimpeded signal through when the effect is not active. This is great for guitarists who like pure, uncolored tone. A good choice for blues, jazz and classic rock players.
Pros
Transparent sound without artificial tone artifacts.
Small size works well for crowded pedal boards
Rugged and durableGreat price.
Cons
Small knobs for Echo and Feedback can be hard to adjust.
No option for battery power, requires 9 volt dc adaptor (not included).
3. Electro-Harmonix Canyon
Electro-Harmonix is name that has been around for a long time and the Canyon digital delay is another nice effect in a long line. This four knob delay has controls for level, delay time, delay mode and feedback. The Canyon has 11 different delay modes, two of which, the reverse delay and octave delay, are truly unique and can really lend an interesting effect to your tone.
Delay times range from 5 milliseconds to 3 seconds. The Canyon's Tap Tempo feature is also very flexible in that it allows tap divide that can be controlled via an external footswitch. This is extremely useful for users who employ multiple tempos within a given piece of music. The pedal also includes a looper with 62 seconds of loop time which is the longest on the market for a delay/looper combo.
Pros
11 built-in delay modes.
3 seconds delay time.
Built-in looper.
Unique reverse and octave delay modes.
Cons
Setup is not intuitive.
Takes time to dial in desired tone.
4. Valeton Coral Echo
The Valeton Coral Echo 11 digital delay manages to pack a surprising number of features into a surprisingly small package. The Coral Echo is a four knob delay with mix, delay time, feedback and mode controls.
The mode control features 11 modes including analog, tape delay and slapback echo simulations. The Dynamic mode allows the delay to adjust to the tempo on-the-fly.
One of best features of the Coral Echo is the mix control that allows the user to mix the wet (delayed) tone with the dry signal to produce the ideal balance between the two. It has a lot of features for the money.
Pros
11 built-in delay modes.
Studio quality tape delay and slapback simulations.
Mix control allowing for wet/dry mixing.
Compact design.
Inexpensively priced
Cons
No option for battery power, requires 9 volt dc adaptor (not included).
5. Mxr Carbon Copy
As analog delays go, the Carbon Copy pretty much is the standard by which all other analog delays are measured. This is the pedal that launched Eddie Van Halen's career. Its very simplicity is its best selling point. It is a three knob design with regenerate, mix and delay time controls and is about as basic as it gets. The result is transparent delay without any unnatural digital artifacts. Don't let that fool you, however, the Carbon Copy is a very versatile effect.
One of the coolest features about this pedal is the modulation switch which places a slight pitch shifting movement on the delayed signal. This replicates an old tape echo with its distinctive wow and flutter. This can be adjusted for a much more pronounced and intense chorusing sound. It also has been described by some as having a distinctively "dark" tone, making it a favorite with hard rock and metal guitarists.
Pros
Simple three knob design.
Natural "unprocessed" guitar tone.
Modulation switch replicates tape echo effect.
Cons
Due to its analog circuit it can be noisy.
6. Seymour Duncan Vapor Trail
The Seymour Duncan Vapor Trail is a true analog delay with the flexibility of a digital delay. In addition to the delay, depth and mix features commonly found on analog delays, the Vapor Trail also features controls for rate and repeats that allow you to generate cool sounds like "spaceship" and "laser beams".
One nice feature for the performing musician is the bright flashing LED indicator that is visible though the transparent delay knob so the user can see the tempo of the effect on a darkened stage.
Truly unique to the Vapor Trail is the TRS insert jack. The TRS jack allows the user to send the wet signal through any other pedal or effect, such as distortion flanger, chorus, envelope filter. You can also use it as a wet output to send just the repeats to a separate amp or signal chain.
Pros
Five controls allow for great tonal flexibility.
Bright LED tempo indicator.
TRS insert jack allows you to add effects loops to the pedal itself or output delayed signal to a separate amp.
Cons
Can sound muddy with high-gain/distortion.
And The Winner Is
It was a difficult decision, but the TC Electronic FlashBack just beats out the Electro-Harmonix Canyon. Feature for feature the two devices are comparable, but the FlashBack has the advantage of the TonePrint functionality which allows for customization of tones. Analog delays are at a distinct disadvantage to digital delays when it comes to versatility due to their design, but for the purist they may be just what that person is looking for.
Again it all comes down to what the individual is looking for and what style of music the play. I hope you enjoyed this review and rating and would love to hear your input. Feel free to leave your comments, and always remember to keep rocking.